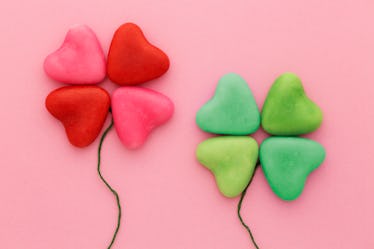 4 St. Patrick's Day Sex Moves That Make Getting Lucky Hotter Than Ever
St. Patrick's Day is a holiday with Roman Catholic origins. It began as a celebratory feast for the foremost patron saint of Ireland. Today, it has become synonymous with partying, drinking, and sex. As with many cultural and religious celebrations, young people have taken it upon themselves to celebrate St. Patrick's Day the best way they know how: by getting wasted in the middle of the afternoon. Christmas has SantaCon, Valentine's Day has boozy singles events, and St. Paddy's Day has green beer and "Kiss me, I'm Irish" t-shirts. Even if you're not actually Irish (OK, especially if you're not actually Irish), these four St. Patrick's Day sex positions will keep you feeling as festive as a four-leaf clover.
Whether you plan on going home with a cutie you meet at an Irish pub, or you just want to ensure that you and your significant other have a shamrock-ing good time on March 17, this list is full of magically delicious inspiration. Just go easy on the Guinness, okay? This year, try the festive sex moves below. You might even decide to start your own sexy St. Paddy's Day tradition. After all, this is one holiday that is all about getting lucky.