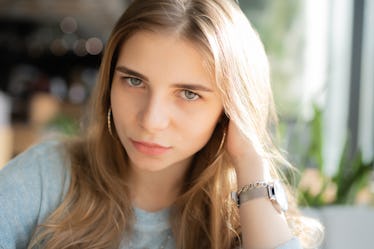 4 Signs You're Still Resentful Toward An Ex, So You Can Start Letting Go
Shutterstock
Letting go of someone you once loved can be a painful and emotional process. Even months after a difficult breakup, when you've convinced yourself you're over your ex, they could post a picture that makes you feel a sudden flood of nostalgia, sadness, or regret. Maybe you quickly shove these emotions aside and try to ignore them, but be careful — buried feelings can impact the healing process more than you might think. To help break the cycle and truly let go, look out for the signs you're still resentful toward an ex. Pinpointing them may help you better understand your feelings, and give you insight into how to finally move on once and for all.
These signals aren't always clear-cut and obvious. Even if you've started dating other people, you could be holding onto bitterness without realizing it. And eventually, if you don't spend time working through those feelings, they could hold you back from being truly happy moving forward. As hard as it is to stomach, the only way to let go of your ex is to truly let go of them — and this means facing your lingering pain head-on and accepting it as valid, rather than letting it fester into more cynicism.
I spoke with Dr. Erika Martinez, Psy.D., a licensed psychologist who works with people on post-breakup recovery. She provided a list of behaviors that often indicate someone is still angry at an ex, even months or years after the relationship has ended. "All these behaviors are rooted in defense mechanisms that people use to self-protect from emotions that feel intense and uncomfortable," she explains. If you notice yourself falling into one of these patterns, it might mean you still have some healing to do.