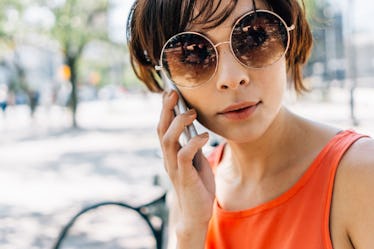 If You're Going Through A Hard Time, Here's Why You Definitely Shouldn't Call Your Ex
One of the worst things about breaking up with someone, especially a long-time partner, is the loss of their friendship. My partner is my best friend, so they know just about everything about me and about the people in my life. This means we've developed a shorthand over the years that makes it easy to turn to them when times get hard. Besides that, we're a team. So I totally understand if someone's reflex, when times get tough, would be to fall back into that pattern with an ex. But is it OK to reach out to an ex when you're going through a hard time? Is that ever really a good idea? I'm not so sure. Maybe your best course of action is to just put that phone back in your pocket and keep it moving.
Just to be clear, I am a true believer in being friends with exes, provided the relationship was not toxic, the breakup was relatively amicable, and enough time has gone by. But when it comes to reaching out specifically because you're going through a rough time, that's a little different and, to be honest, I'm not sure if that's even OK. So, to help with this dilemma, I reached out to flirting, dating and relationship coach Fran Greene, author of The Secret Rules of Flirting and Dating Again with Courage and Confidence, to ask for her advice on when and if you should turn to your ex in a crisis. Here's what she suggested.