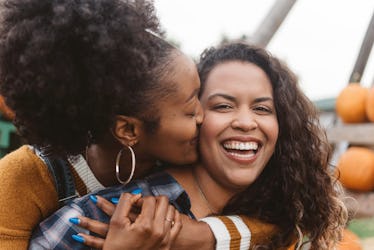 4 Signs You're Basically Exclusive But Just Haven't Had The Talk, According To Experts
After you start talking to someone new, you might naturally start to wonder where exactly you stand with them. Do they like you as much as you like them? Are things actually getting serious? And probably the most anxiety-producing question: Are you exclusive? Don't freak. It's totally normal to have questions when you've started dating someone new and feelings are getting involved. Fortunately, there are some signs you're basically exclusive but haven't had the talk yet that you can be on the lookout for if you're doubting your relationship status. However, if you've been wondering about the official status of a relationship, it's important to emphasize that the only way to know for sure is to have "the talk."
TBH, bringing up the topic of exclusivity can be a scary thing for a lot of people — and even though it should happen at some point, if you haven't gotten there yet then you might have to read between the lines. Ultimately, having an idea of where they stand based on their words or actions can make opening up a lot easier. Before you (or they) decide to bite the bullet and bring it up, here are some signs that they are no longer on the dating market and are all about you.