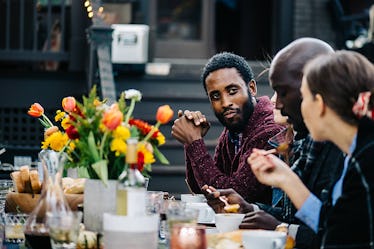 4 Signs Your Partner's Parents Don't Trust You & How To Talk To Them About It
Having a friendly relationship with your partner's family can be an important part of keeping things between you and bae running smoothly. Unfortunately, getting the stamp of approval isn't always easy. Keeping an eye out for the signs your partner's parents don't trust you is definitely a good idea, especially if you're sensing strange vibes. Even though dealing with these types of situations can be tough, letting them fester could lead to bigger issues down the line.
I spoke to prominent relationship therapist Dr. Gary Brown about how you'll know if the trust between you and your partner's family could be improved. According to Dr. Brown, trust issues aren't always a reflection of anything you've done wrong. Sometimes, a lack of trust is connected to concerns or baggage from the past. "In some circumstances, it can be understandable why [your partner's parents] may be somewhat guarded and a bit untrusting in the beginning," Dr. Brown tells Elite Daily. "This is especially true if your partner has had prior relationships that did not end well for them." Let's face it, certain families can be tough to get close to, but putting in an effort to improve the situation can make a big difference. If your SO's parents display the following behavior, it might mean that they don't trust you yet.