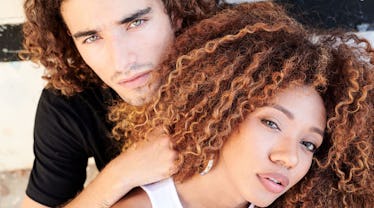 If Your Partner Says These 4 Things, Experts Say They Might Be Emotionally Unavailable
Before I met my current partner, I was like a magnet for emotionally unavailable people. It was like I was a walking, talking, homing beacon for anyone totally shut off from their heart, or ya know, "just not ready for anything serious right now." That's totally fine if you're on the same page — and trust me, I've been there too. However, if you're actually committed to someone and you're seeing signs your partner might be emotionally unavailable, it may be time to consider if this relationship is salvageable, or even one you really want to be in.
What exactly does being emotionally unavailable mean? NYC relationship expert Susan Winter tells Elite Daily it's a way of describing "a partner who's there, but not there. It's as though they're sleepwalking their way through your partnership. Technically, they're with you but their emotions are not fully engaged. They're withholding their complete emotional expression." Kali Rogers, relationship expert and founder of Blush Online Life Coaching, agrees with that definition and adds that "it's usually caused by deep fear of being vulnerable or hurt, but sometimes if it's serious enough it can be part of a larger issue such as a DSM personality disorder."
Knowing how to spot the signs is really important if you want to improve your relationship, or if you want to find another SO who is capable of meeting your needs. You can often gauge your partner's emotional availability just by the way they speak to you (or don't speak at all). With that in mind, I asked the experts for what they consider red flags your partner is emotionally unavailable. Here's what they had to say.