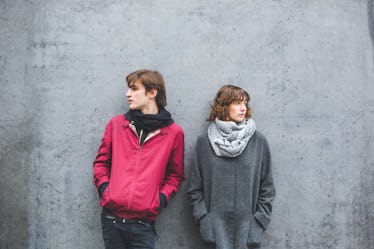 4 Signs Your Partner Is Coasting With You, So Don't Get Attached
The word "coasting" has a certain inherently and almost enticingly chill air about it — it implies a cruise-control, top-down, wind-in-your-hair, not-a care-in-the-world kind of nonchalance. Undoubtedly, coasting can be a positive thing in many aspects of life, but relationships are not one of them. Fortunately, there are some common signs your partner is coasting that you can look for. According to The Cambridge Dictionary, one definition of this verb is: "to progress or succeed without any effort or difficulty." In relationships, effort isn't just necessary: It's key.
It may actually be possible to become too comfortable in a relationship. Sure, most of us want a connection in which we feel in sync with our partners, and altercations are few and far between. If you look around, you'll no doubt observe many couples that seem to have struck this kind of chord. You may have even envied them at some point. The truth is that there's a fine line between smooth sailing and coasting. Coasting implies that a person has become so comfortable in their relationship that they are no longer putting in the effort required to sustain momentum. After all, relationships are living, breathing things that are meant to evolve and strengthen over time — and that simply isn't possible if one partner is on autopilot. If you suspect your SO may be coasting through your relationship, keep an eye out for one of these red flags.