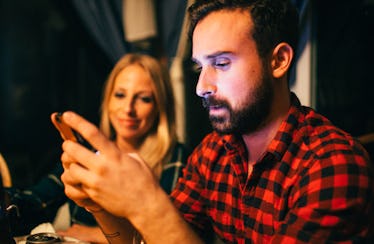 4 Signs Your Partner Is Cheating, Based On Their Nighttime Routine
There are many red flags that can point to the possibility that your partner is cheating — from someone else's scent on their collar to them suddenly going MIA for long stretches of time. Ultimately, one of the most effective way to determine if an SO is being unfaithful is to look for notable changes in their habits — for example, in the evening hours. In fact, experts say certain signs your partner is cheating can be indentified simply by observing their nightly routine.
Consider this: Most of us have a vague format we follow at night. For some, this may mean brushing your teeth and washing your face before snuggling up to watch Jimmy Fallon on The Tonight Show. For others, it may mean showering, brewing a mug of tea and then climbing into bed to read a chapter or two of that new book you picked up. We're creatures of habit, so it's unlikely that we would drastically alter these bedtime rituals for no reason at all. As such, if you notice that your boo is suddenly acting differently in the evening, there's a good chance that something might be up — and that something may be someone else.
Has bae's bedtime routine been off lately? Here are a few signs to look out for that hint at unfaithful behavior.