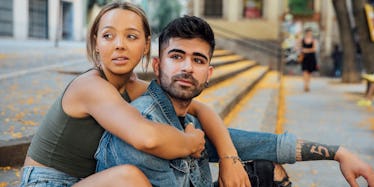 4 Signs Your Partner Didn't Delete Their Dating Apps Like They Said They Would
Most of us have our phones attached to us basically 24/7. It's likely you keep a lot of your life's details on the little device. You probably don't mind your partner returning your mom's text or checking movie times if you're otherwise occupied, because you have nothing to hide. But some people are sneakier and not as honest with what's in their phone, and it could be a sign for something troubling. There are signs your boyfriend or girlfriend is on dating apps, but it doesn't always automatically spell cheating, so don't worry until you definitely have something to worry about.
I spoke with April Masini, relationship advice expert, and Julie Spira, online dating expert, about the signs your partner could possibly be using dating apps behind your back.
While the following behavior is shady, you might want to give your partner the benefit of the doubt before leaping to the conclusion that a breakup is inevitable. They could be using dating apps if they work in the dating industry — for example, if they write about dating or work for a dating app in some capacity — or they could be utilizing the networking tools offered on some dating apps, like BumbleBFF or BumbleBizz, Spira says.
But if you're in a monogamous relationship, that person should be clear that they are on those apps and for what reasons specifically. If they're hiding it, it's likely bad news. Read on for signs your partner may be using dating apps behind your back.