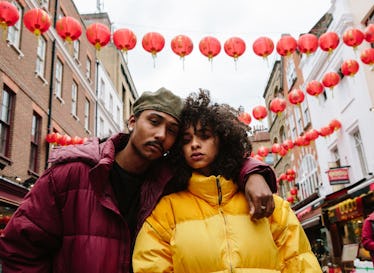 4 Signs You Shouldn't Break Up With Your Partner, Because Doubts Are Totally Normal
Maintaining a healthy and satisfying relationship after the initial intensity of the honeymoon phase is no easy feat. Settling into a less intense romantic rhythm, while also dealing with the doubts that often come once things are less new, can definitely be a source of anxiety. And while doubts are definitely not things that should be ignored, sometimes the nagging sensation that things aren't as good as they "should" be can be the catalyst for breakups that might not have been necessary. The signs you shouldn't break up with your partner, even if the relationship doesn't feel as amazing or as effortless as it may have in the beginning, are important to be aware of because every relationship goes through its ups and downs.
Once you've been with someone for a while and said goodbye to that first explosion of passion and love, it's only natural that you'll start to notice the less perfect things about a particular relationship. And that's OK! If your goal is finding someone who is 100 percent perfect for you in every way, then this may be an expectation that isn't in line with reality. Even the most compatible of partners will come across issues over the course of a long-term relationship that will require compromise. I spoke with dating expert and licensed marriage therapist Anita A. Chlipala to get her input on things that don't necessarily mean you're in the "wrong" relationship.