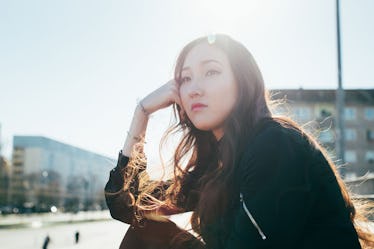 A Matchmaker Reveals 4 Signs You Keep Picking The Wrong "Type" For You
I wouldn't say I have a "type" anymore, but if I had to define it, it would just be someone I vibe with, someone who makes me laugh and thinks my dumb jokes are funny — oh, and definitely someone who's kind. Appearance, style, and even gender really don't matter as much to me anymore. It's all about humor and heart now, but that wasn't always true. There was definitely a time when I did have a type and it could be summed up as "tall and troubled." If you're looking for signs you keep picking wrong type, my dating history is exhibit A —just a slideshow of hot messes, drama, broken hearts, and discarded 36-inch inseam jeans. Fortunately, I eventually broke that cycle and found a nice, funny, short dude who makes me really, really happy. And if I can do it, you definitely can, too.
The first step is to recognize your pattern. What is it about the type of person you're currently drawn to that makes them not compatible for you, or for the future that you want? The second part is to be open-minded, because veering away from your "type" is going to require you to step outside your comfort zone and start considering new types of folks to date, if that is, in fact, your problem to begin with. Here's how to recognize the signs you're picking the wrong type of person for you, according to the experts in the field: matchmakers.