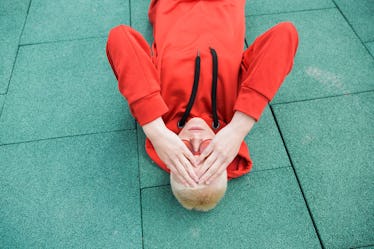 4 Signs You Have Chronic Migraines, Not Just Headaches, Because There's A Difference
Migraines are a pain in more ways than one. It's not just that they're physically uncomfortable; it's the kind of pain that can put you down for the count at a moment's notice, yet feels like it'll never end once it begins. While it might be difficult at first to tell the difference between fleeting head pain and a full-blown migraine, there are definitely some tell-tale signs that you have chronic migraines, not just headaches. And as the Migraine Research Foundation notes, migraines truly aren't just headaches; they are "an extremely incapacitating collection of neurological symptoms."
The thing is, migraines are, in some ways, a bit of an enigma. While they do seem to originate in the brain in some way, "migraine causes aren't understood" for the most part, according to the Mayo Clinic, and treatment depends on "the frequency and severity" of the pain, including approaches like preventive medication, lifestyle changes, and even certain kinds of alternative medicine.
They may not be fully understood, but make no mistake, migraines are very common. According to the Office on Women's Health, roughly 29.5 million people in the U.S. alone experience migraine pain, and in fact, three out of four people who have migraines are women.
Clearly, there's still a lot to discover in terms of how migraines begin and what the best strategies are for treating them. For now, though, here are some signs that can mean you're dealing with a migraine, not a headache.