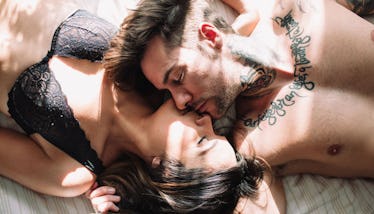 If You're Getting Freaky On Halloween, Try These 4 Sex Positions That Feel Scary Good
What's the sexiest time of year? To me, it's no contest: It's definitely Halloween, when we all get to lean into the spooky and primal, and dress up in costumes that let us pretend to be someone else. We let down our inhibitions and get into the holiday spirit, and you know what that means: It's time to do some tricks and get some treats… of the adult variety. Plus, since it's a holiday, it makes for the perfect excuse to introduce some new sex positions to try on Halloween. Trust me, if you give these a shot, you won't have any trouble getting someone back in your sack.
If you've been looking for an excuse to (pumpkin) spice things up with your boo, no worries — these positions are sure to do the ~trick~. Or maybe you're single and getting ready for a spook-tacular holiday mingle. In that case, it doesn't hurt to have a few new moves up your sleeve that'll put your lucky companion under your sexual spell. Either way, if this year you'd like to get a little extra Hallo-weenie (sorry, couldn't resist!), give these positions a shot. I'm willing to bet my last fun-size Snickers that you enjoy them so much, it's scary.