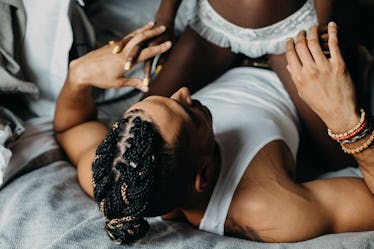 4 Sex Positions For When You're Really Full From Thanksgiving, But Want To Get Frisky
If everything goes according to plan, then there's a good chance you and bae will be eating yourselves into oblivion come Turkey Day. Needless to say, all of that food and drink can make getting frisky a bit of a struggle. We've all likely felt that tightness in our gut when we've stuffed our gullets to the max — and if some TLC is still on the agenda, then it's a good idea to proceed with caution. Luckily, there are a few sex positions for when you're really full that will make your post-dinner bump n' grind much less of a strain.
If you're worried about having a satisfying sesh on a full stomach, then a good rule of thumb, IMO, is to avoid putting too much direct pressure on your tummy. According to New York-based gastroenterologist, Dr. Valerie Antoine Gustave, waiting at least an hour after eating before getting down is also a good move.
"Any time less than that would result in perhaps a lot of the food still being in your abdomen," Dr. Gustave told StyleCaster. Ultimately, food is food, so having sex after a Thanksgiving meal isn't necessarily any more intense than after a normal dinner, she says. "Sex after Thanksgiving should be no different then sex after dinner and a movie. It all depends on how an individual feels."