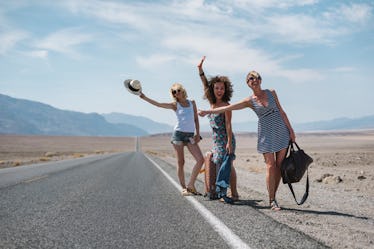 4 Road Trips To Take This Summer With Your College BFFs To Celebrate Graduation
Graduation season is upon us, and you know what that means: It's time to celebrate. After making it through many college exams and late-night study sessions, it's about time you treat yo' self. If there's anyone you should celebrate with, it's your BFFs who endured the college struggles with you. You've pulled all-nighters together, snuck into your dorms past curfew, shared dating woes, and now it's time to go out with a bang. A road trip with your mains will be the perfect way to bond before you enter the real world. Don't miss out on these road trips to take this summer, or you just might regret it.
Road trips are always a blast. Instead of waiting in long airport lines and dealing with flight delays, you can hit the road whenever your heart desires. You don't have to worry about transportation when you arrive at your destination, which allows for plenty of spontaneity. Road trips are even better when you're with your girls because you can jam to your favorite songs and create memories that last a lifetime. It's the perfect way to cover a lot of ground in short amount of time. You and your girls are finally free from school, so why not celebrate with a road trip?