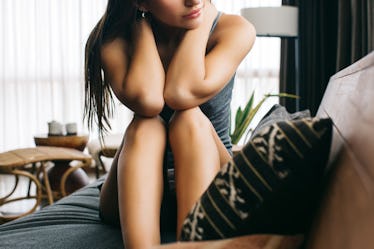 4 Reasons Why Your Birth Control Can Fail, Because No Method Is Completely Foolproof
If I've learned anything so far in my 27 years on this Earth, it's this: Nothing in life is guaranteed — especially the effectiveness of birth control. Not that that's anything you didn't already know, seeing as how the only surefire way to prevent pregnancy is celibacy, but did you also know there's a list of reasons why your birth control can fail? Because I didn't. Call me naive, call me oblivious, but I guess I just never really thought too much about it. I trust my doctor, I trust my body, and hey, I'm a romantic: I trust until I'm given a reason not to. But this isn't me trying to dissuade you of using contraception, BTW. I'm just saying, knowledge is power, and the more aware you are of these potential errors, the better equipped you'll be to protect yourself from an unwanted pregnancy.
Personally, I've only used oral contraceptives, but my time on the pill wasn't pretty. No matter what dosage I was prescribed, it was the same story every night: Pop the pill before bed with a large glass of water, guzzle it down, suffer from an instant wave of nausea that would only subside with sleep. I must have gone through five different versions of the pill until I finally made the decision to opt off once and for all.
Though I didn't know why my birth control wasn't working out, there's always a reason birth control fails — whether it's your body not responding to the medication, or habits you've adopted that compromise its effectiveness. If you think your birth control isn't working the way it should, here are a few reasons why experts say your method might be failing.