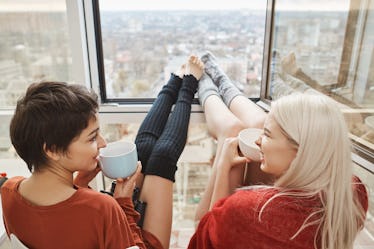 4 Important Questions To Ask Your Partner About Your Future
No matter how long you and your partner have been together, people's perspectives are constantly shifting. If you know your bae is someone you'd be happy with long-term, it's probably a good policy to keep the lines of communication open when it comes to questions to ask your partner about the future. Rather than just assume you know what they're thinking or feeling about the your life together, you can ensure that you're both on the same page. Talking about how both your dreams and ambitions change is crucial to making sure you still fit into each other's lives a couple years down the road.
Dr. Gary Brown, a prominent marriage counselor in Los Angeles, previously told Elite Daily it's important to have these deep conversations. "You and your partner are getting ready to potentially spend the rest of your lives together. It certainly makes a great deal of sense to gain some deeper understanding of who you are and who they are before taking the next step," said Dr. Brown. Gaining that understanding will help you know if their vision for their future is one you want to be a part of, and whether or not you're on the same (or at least similar) pages. Below, more important questions to ask your partner about what they envision for your future together.