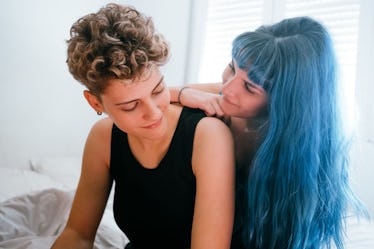 4 Questions To Ask Your Partner About The Future Before You Agree To Live Together
Deciding to move in with someone is a big deal — in part because, to some extent, the decision is really a leap of faith, but with more paperwork. Ultimately, you never know what's going to happen or what impact cohabitation is going to have on your relationship. However, all of that means you might want to consider having some serious conversations about what moving in is going to mean long-term, which is why it's so important to have questions to ask your partner about the future so you have a better idea of what's to come before you sign that lease. You want to make sure that both you and your partner's future goals align and that you are on the same page about what this means for the relationship and where it's going. Not to mention just the short-term realities like how you'll be handling all the finances.
So, to help figure out the most important questions to ask your SO about the future, I reached out to the experts: Grace Lee, co-founder of A Good First Date Online, and Chris Armstrong, founder of the relationship coaching company Maze of Love. Both agree that having a real, frank conversation about long-term goals and desires is an essential step before moving in together. Here are the questions they suggest you ask.