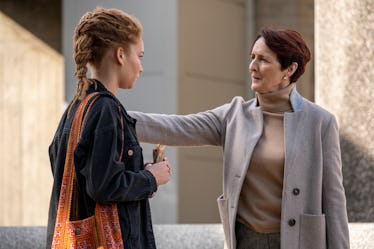 4 'Killing Eve' Theories About Carolyn That Hold More Weight Than You Realize
BBC America
When Killing Eve began, it was presented as the story of Eve and Villanelle. Eve is the woman bored to tears by her job, who stumbles into a job searching for female serial killers in MI-6. Villanelle is the anti-heroine, a killer who loves her job, her life, and has fun with every assassination assignment. But since then, the show has changed. A new, more shadowy organization has taken hold of the narrative: The Twelve, and Eve's boss Carolyn may be a member. These Killing Eve theories about Carolyn suggest the character may not be who she seems. Warning: Spoilers for Killing Eve Season 3 follow.
Here's what fans know about Carolyn. When Eve first meets her, she's a ruthless bureaucrat struggling to find whoever assassinated a high-profile politician. When Eve puts the clues together and points out how wrong Carolyn's team is, she's offered a job to find and take down Villanelle, who viewers learn works for the Russian gang of assassins called "The Twelve."
But things have never been quite right with Carolyn. On the face of it, she's an M-like figure to Eve's James Bond. But her ties to the Twelve are murky, and her friendship with Villanelle's handler, Konstantin, suggests she's got deeper connections to the Russian organization that anyone realizes.