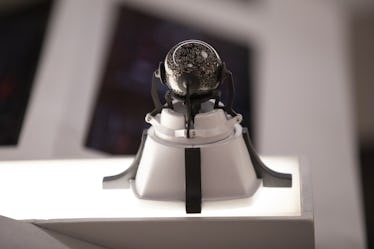 4 Details In The 'Westworld' Season 3 Teaser You Definitely Missed
HBO
Game of Thrones is over, the final season is in the can, the documentary has come and gone. This means, for fans of HBO's fantasy and science fiction work, it's time to turn their eyes towards the 2019-2020 television season. Throughout the fall of 2019 and spring of 2020, the channel will premiere an adaptation of the Watchman comic, a star-studded version of His Dark Materials done jointly with the BBC, and, of course, the next season of Westworld. These details in the Westworld Season 3 teaser are a sign that when the show finally returns, things will be very different.
However, HBO wants to make something very clear about the new season. Even though the trailer features an entirely new character fans have never met before, is set outside the park in the futuristic city only seen in flashbacks during Season 2, and appears from all angles to be a completely new take on the series, this is not a reboot.
Speaking to Deadline, HBO programming president Casey Bloys said:
At the end of the [second] season, Dolores was going off. So it was a little bit of a tease to see what the world might look like. All I will say is, it still has robots in it, but it's not so much a reboot as it is following the characters.
So what did fans miss about this trailer that ties it back to the first two seasons?