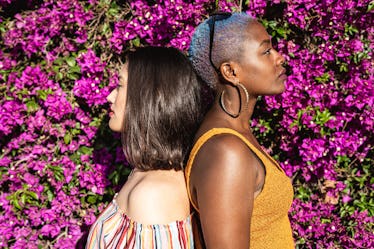 4 Dating Behaviors That Might Mean Someone's Seeing Other People
In today's fast-paced courtship climate, dating around has become the norm for singles who are eager to mingle. There's no denying that casually dating multiple people simultaneously can be fun for some people, but if you start to suspect someone you really like might be keeping their options open, it's normal to feel a bit deflated. Learning how to spot the dating behaviors that mean someone's seeing other people can be one of the best ways to avoid falling for someone who might not be interested in dating exclusively.
According to prominent LA-based couples' therapist Dr. Gary Brown, in some cases, dating other people can signal that someone's interest level isn't high enough to give a relationship the momentum it needs. "Dating other people may indeed be a sign that they're not interested in you, and that's OK," Dr. Brown tells Elite Daily. "It may hurt to come to this realization, [but it's] better to know sooner than later." On the other hand, some people may continue dating others as a safeguard until they know what your interest level is, explains Dr. Brown. Either way, knowing where you stand with someone is an important aspect of communication. If you're not sure if they're still seeing other people, the following signs could indicate that they are still on the prowl.