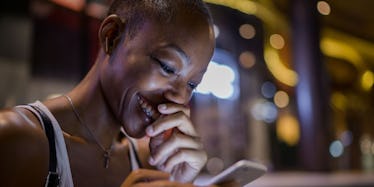 4 Clever Texts To Send Your College Crush If You Haven't Seen Them All Summer
After a long summer apart, you may want to remind the person you like that you exist by sending clever texts to your college crush. Whether or not you have been talking intermittently all summer, or your convos have lulled during the break, texting your crush before school starts up again can get you excited to see them again.
Now, what you text them will, of course, depend on how you two have interacted in the past. Did you have classes together? Did you meet at a party? Were they across the hall from you in your freshman year dorm? Have you two hooked up or even dated?
The following texts are guidelines to get you thinking, but feel free to send these exactly as they are. Don't be afraid to add in personal details — your crush wants to get to know you. After the first text, maybe you two will get to talking, and make plans to meet up right when you both get back to school. And then my work here will be done. Read on for some texts to send to your crush.