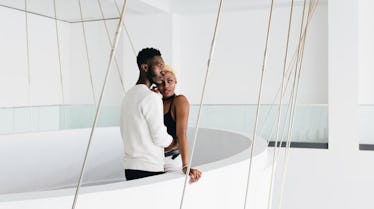 These Body Language Clues Might Mean Your Partner Isn't In Love With You, Experts Say
Sometimes people can say things they don't mean. We're all human — none of us are immune to bending the truth. But thankfully, knowing the basics of body language can help us decipher how the people around us actually feel. This is especially helpful when it comes to love. There are several body language clues your partner isn't in love with you, even when they say they say they are, that can be helpful to take note of if you feel they might be saying things they don't mean. According to body language expert Craig Baxter, looking at the body language in any relationship that you have doubts about can be helpful. "When a relationship is in trouble, it's body language that can reveal issues," Baxter tells Elite Daily.
Yes, believe it or not, looking at your significant other's body language is a great way to see things that you might not notice otherwise. If you're worried about something in your relationship that you don't feel you can talk to your partner about (which might be an issue in and of itself), look at their eyes, look at their hands, and look at them. The way their body moves might be able to give you what you're looking for. Baxter filled me in on what to look out for, and it's pretty eye-opening.