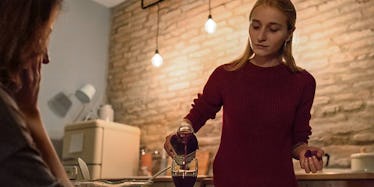 4 Women Reveal The Best TV Shows To Watch While Drinking Wine After A Breakup
Everyone has their own way of coping with a breakup. One of the best ways, in my experience, is to watch TV to get through the difficult time. Television allows for you to escape from the reality that your life has changed drastically and dive into someone else's problems for a little bit. I took to asking some real women about the best TV shows to watch after a breakup to help process their feelings and move on.
After my own break up in 2016, I breezed through Stranger Things. I had just graduated college, moved to a new city, and started my first full-time job all while dealing with the very fresh split. The new series on Netflix was buzzing all over the internet, and I liked the spooky vibe of it. The characters had much bigger concerns than me losing my best friend and partner — being consumed by the supernatural in the Upside Down (RIP Barb) — and it allowed for an easy escape from dealing with an otherwise constant state of loss. Even though the characters and storylines were fictional, it allowed me to feel connected to something at any time that I wanted to, even though I had a great support system in my friends. So thank you, Stranger Things, and read on to see what worked for other women while going through a painful time in their lives.