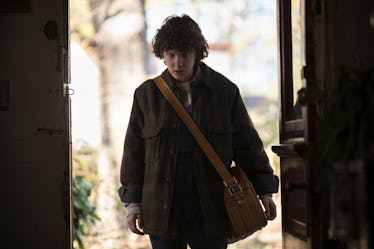 This 'Stranger Things' Season 3 Theory About Eleven Could Change Everything
Jackson Lee Davis/Netflix
It feels slightly wrong to be entering the Halloween season without new episodes of Stranger Things to dissect. The third season of the Netflix drama won't launch until the summer of 2019, but thanks to leaked photos of the show's set, fans are still tossing around new theories about what the upcoming season has in store. New set photos of Millie Bobby Brown as Eleven aren't quite what you'd expect from the character, and this Stranger Things Season 3 theory about Eleven could take the show in an entirely new direction.
Photos of Brown filming a Stranger Things scene on the beach hit the internet last week, and Brown called more attention to the photo leak when she posted one of the images in her Instagram Story. Now with longer, slightly crimped-looking hair, Brown as Eleven is dressed in jeans and a a shirt with a black-and-yellow zigzagged pattern. The clothes appear to fit her, but as Teen Vogue points out, the loud style is similar to the summer wardrobe David Harbour previously wore on set as Chief Hopper, Eleven's adoptive dad.
While her clothing is different from the more masculine cuts Eleven wore while in hiding in Season 2, the camera also caught Brown acting out what seems to be a dramatic moment. In some photos, she's sprawled out in the ocean waves and in others, she talks to a child in a baseball uniform. One photo even captures Brown screaming at the shore, suggesting that Eleven's beach day is far from being sunny and carefree.
As Reddit users pointed out, Hawkins is in the landlocked Indiana, meaning that the waterside scene is either meant to pass as being at a lake or, in a more complicated explanation, that Eleven has psychically transported herself to the ocean. Unless Season 3 has an even angstier plot than Eleven's Season 2 experiences, I would hope we could rule out Eleven leaving home to join a band of rebellious strangers again. A photo speaks a thousand, albeit confusing words, but these snapshots definitely hint more at Eleven being in a new location against her will.
Stranger Things fans are confused about the surprising setting, but they're willing to bet that El's beach visit has to do with time travel. Reddit user stevp19 offered an explanation that introduces a familiar view of Eleven's powers, writing:
El projected herself into a scene from the past to find out more about her history, saw the kid in the baseball uniform get swallowed by the ocean/drowned and couldn't do anything about it because she wasn't really there/it already happened.
Eleven's previous psychic journeys have been more fleeting and dream-like, and while we obviously don't know what the editing plans for this scene are, it currently looks a bit more concrete than other dives into El's mind. After reports of the photos being taken on a California beach emerged, the thought that Eleven could have accessed Max or Billy's memories to discover why their family left California also emerged on the Reddit thread. Although Season 3 needs to address the greater mystery of the Mind Flayer, the second season also ended on a darker note for the Hargroves after the extent of Mr. Hargrove's abuse of Billy was seen.
With these guesses in mind, what are the chances of both theories being true? We already had insight into Eleven's past in Season 2, but perhaps in a This Is Us-esque twist, her own history is somehow tied into Max and Billy's, which she realizes in this beach scene. The recognition would add depth to the relationship between Max and Eleven, who didn't exactly warm up to Max and her budding friendships with the boys when she returned to Hawkins. It's far-fetched, but count me in as a supporter of a greater understanding between Max and Eleven in Season 3.
Season 3 of Stranger Things debuts on Netflix in 2019.