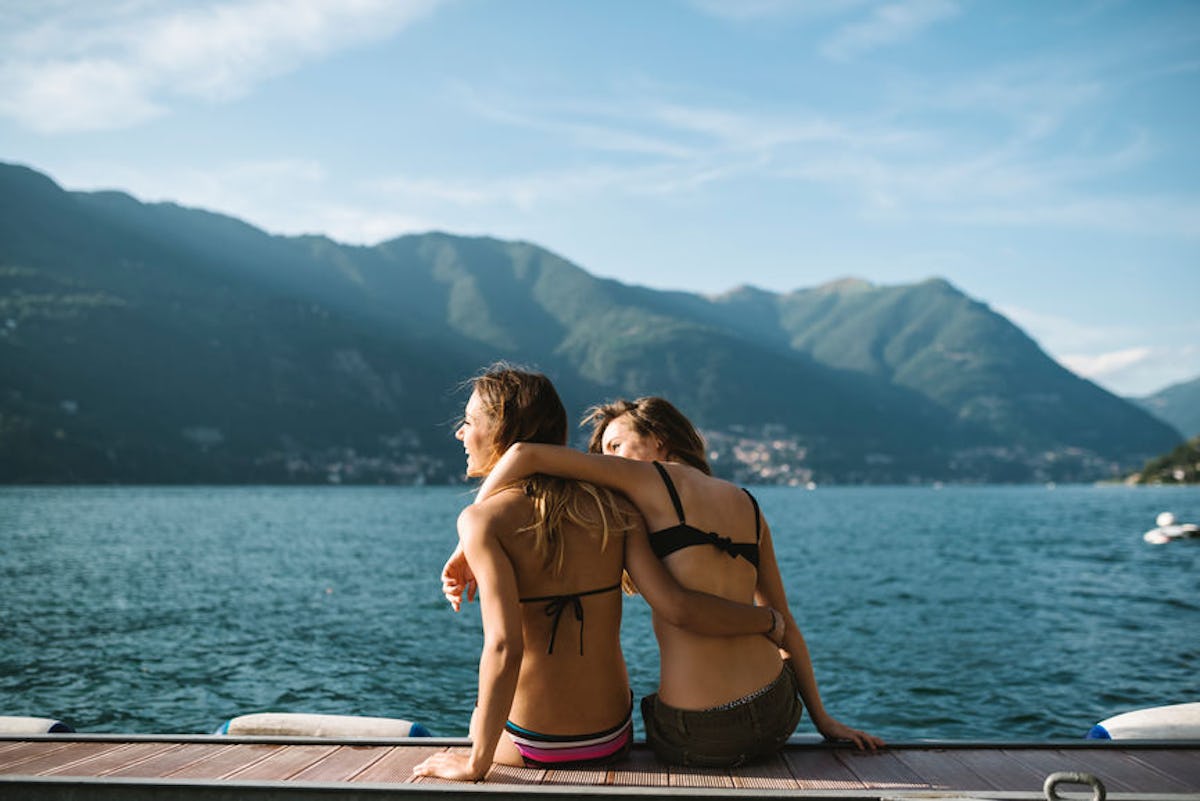 38 Punny Lake Captions For Instagram That'll Seriously Float Your Boat
Swimming in the lake and enjoying the surrounding nature has always been a surefire sign that summer has finally arrived. Real talk: How excited are you that it's almost that time of year again? You'll be posing by the campfire with your s'mores, getting artsy shots of your hot pink flamingo float, and gazing up at the starry sky from the dock. Naturally, you'll need to be equipped with lake puns for Instagram. Get out your Polaroid camera, trendy sunnies, and colorful monokini, because these pics are set to make a splash on your feed.
Whether you're heading to the lake for a long weekend getaway, or camping out for the day, it's sure to be a good time with even better company. When it comes time to document your adventures, these witty lake puns won't let you down. Every summer, you've probably brought different friends with you and discovered innovative ways to make the lake trip fun. This year, be sure your social media posts are complete with a solid lake pun.
Seriously, when has the lake ever let you down? Each year it gets harder and harder to part with it, because you leave a little piece of yourself on the dock. And don't even get me started on those days spent lounging on the boat. Until next year? Well, lucky for you, that time is approaching sooner than you think.
It's a new summer heading to the lake, but the way it makes you unwind and relax is still the same. This year, you might even be attending with a new bae, so that should be fun and exciting. Your pics hardly describe how exhilarating those jet skis are or how yummy those s'mores are by the fire. But, let's be real, that's not going to stop you from posting. Get a little creative with your lake pics this year and pair them with a punny caption for your followers.
1. "Fresh to depth." — Unknown
2. "Keeping it reel at the lake." — Unknown
3. "You float my boat." — Unknown
4. "Trout of this world." — Unknown
5. "You're a catch." — Unknown
6. "I lake you a lot!" — Unknown
7. "My love for you is in-tents!" — Unknown
8. "You make me a happy camper." — Unknown
9. "Aboat time." — Unknown
10. "I need a good paddling." — Unknown
11. "Knot today." — Unknown
12. "Hooked. Like, for reels." — Unknown
13. "Time to pack my glass flippers." — Unknown
14. "Pier pressure keeps a dock floating above water." — Unknown
15. "This camp sky is a five billion star hotel." — Unknown
16. "Having fun is so impor-tent." — Unknown
17. "It's campfire time. Let's get lit." — Unknown
18. "Reckless diving." — Unknown
19. "You're diving me crazy." — Unknown
20. "Everything's s'more fun with you around." — Unknown
21. "Fluent in s'mores code." — Unknown
22. "You call it a jet ski. I call it a boater-cycle." — Unknown
23. "Free watermelon? Ya'll gonna make me lose my rind." — Unknown
24. "Going to the lake. Bear with me." — Unknown
25. "This vacation is one in a melon." — Unknown
26 "Girls just wanna have sun." — Unknown
27. "Good times and tan lines." — Unknown
28. "Water you doing?" — Unknown
29. "Lake hair. Don't care." — Unknown
30. "My love for camping is in tents." — Unknown
31. "Reading while sunbathing makes you wel-red." — Unknown
32. "Camp hair, don't care." — Unknown
33. "I like big boats can I can not lie." — Unknown
34. "Just a fish out of water." — Unknown
35. "Catching a movie at the dive-in." — Unknown
36. "Of all the fish... you mer-maid for me." — Unknown
37. "Never chase anything but drinks and dreams." — Unknown
38. "I'll bring the bubbles." — Unknown
You've been waiting all year for those beloved days at the lake. Make sure you're making the most out of them on and off of the camera.