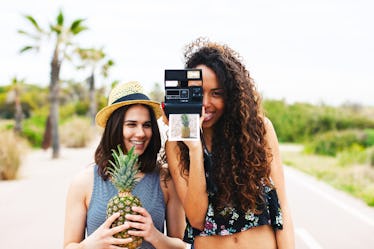 38 Instagram Captions For Your Tropical Pineapple Pics This Summer
I don't know if you've noticed this, but I feel like I see pineapples everywhere nowadays — on pillows, sweaters, towels, lamps, and even cookie jars. You could even search pineapple on Target's website and find pages and pages of pineapple apparel. The tropical fruit is totally taking over, and I'm digging it. Who doesn't love a fruit that wears a crown, and makes us think of relaxing in the summer? So, for all your fruity pineapple pics this year, you need some Instagram captions for pineapples.
I know when I'm relaxing by the pool with a piña colada in hand, I'll need a pineapple-worthy caption to go along with my selfie. Make this summer all about getting into the pineapple craze with pineapple drinks, Hawaiian pizza with pineapples, and fresh pineapple slices whenever necessary. Or, find yourself getting lost in discovering all the pineapple apparel there is out there. It'll be like an Easter egg hunt, but more fruity and fun. Either way, use any of these 38 pineapple Instagram captions for whenever you spot a new one.
You're too busy looking for the next pineapple to take a pic of that you don't have time to come up with your own caption. We've got you covered, so you can snap, post, and go about your pineapple day.
1. "Be a pineapple: Stand tall, wear a crown, and be sweet on the inside." — Catherine Gaskin
2. "I may be spiky on the outside, but I'm sweet on the inside." — Unknown
3. "In a world full of apples, be a pineapple." — Unknown
4. "If you were a tropical fruit, you'd be a fine-apple." — Unknown
5. "Love is like a pineapple, sweet and undefinable." — Piet Hein
6. "A pineapple a day keeps the worries away." — Unknown
7. "I pine for you." — Unknown
8. "A pineapple has pointy defense, but it's still sweet." — Unknown
9. "You are the pineapple of my eye." — Unknown
10. "Be kind and truthful, and life will be fruitful." — Unknown
11. "Party like a pineapple." — Unknown
12. "Life is sweet." — Unknown
13. "You are the piña to my colada." — Unknown
14. "Wear a crown like a pineapple." — Unknown
15. "Peace, love, and pineapples." — Unknown
16. "I had a craving for pineapple and a pink cardigan." — Sophie Kinsella
17. "When life gives you lemons, sell them and buy a pineapple." — Davin Turney
18. "I will have you know there is probably less pineapple at your average luau than in my system at this moment." — Qwen Salsbury
19. "So, bring me two piña coladas, one for each hand." — Garth Brooks, "Two Pina Coladas"
20. "Who lives in a pineapple under the sea? SpongeBob SquarePants!" — SpongeBob SquarePants
21. "Tropic like it's hot." — Unknown
22. "You are one fine-apple." — Unknown
23. "Ocean air, salty hair." — Unknown
24. "Beach, please." — Unknown
25. "I believe summer is a state of mind." — Unknown
26. "Dang, you pine." — Unknown
27. "Aloha, beaches." — Unknown
28. "When life hands you pineapples, make piña coladas." — Unknown
29. "Stay golden." — Unknown
30. "Passports and pineapples." — Unknown
31. "You had me at aloha." — Unknown
32. "The pineapple is a symbol of welcome, warmth, friendship, and hospitality." — Unknown
33. "Sometimes you just need to chill." — Unknown
34. "Stay fresh." — Unknown
35. "Work that crown." — Unknown
36. "Let me adjust my crown, and get my day started." — Unknown
37. "I came along. I wrote a song for you, and all the things you do. And it was called 'Yellow'." — Coldplay, "Yellow"
38. "Always wear your invisible crown." — Unknown