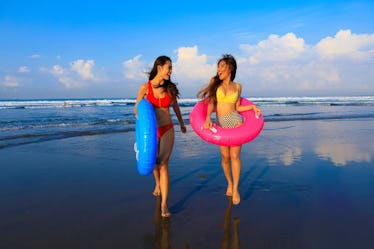 37 Witty Insta Captions For Traveling, Because Your Vacation Mode Is On
Travel is known as one of life's greatest treasures. Once you hit the open road or get your passport stamped, you'll never want to look back. Travel has the ability to transform your perspective. It shows you parts of the world you once dreamed of visiting, and introduces you to amazing people who will rock your world. Simply put, travel expands your little corner of the world into something much bigger. Many of us give into our wanderlust at one point or another, whether we're visiting a tropical paradise or hopping on a bus to visit our besties in another state. When you venture on your next getaway, you'll certainly snap a ton of pictures to document it all, which is why you'll need some witty Instagram captions for travel.
Seriously though, how many times have you taken an amazing picture for the 'Gram, then didn't end up posting it because you couldn't think of a solid caption? It's the worst, right? The hardest part of deciding on a caption is capturing the moment in a short phrase. You don't want to be too cheesy, but a little bit of sass is always good, too. Don't worry, because these 37 witty captions are the perfect match for any travel photo.
1. "I need vitamin sea." — Unknown
2. "Jet lag is for amateurs." — Dick Clark
3. "Let's wander where the Wi-Fi is weak." — Unknown
4. "Airplane travel is nature's way of making you look like your passport." — Al Gore
5. "Sometimes the road less traveled is less traveled for a reason." — Jerry Seinfeld
6. "Life is better in flip flops." — Unknown
7. "Pics or it didn't happen." — Unknown
8. "I haven't been everywhere but it's on my list." — Susan Sontag
9. "A good traveler has no fixed plans, and is not intent on arriving." — Lao Tzu
10. "I want someone to look at me the way I look at a travel brochure." — Unknown
11. "Don't be a tourist, be a traveler." — Unknown
12. "Vacation mood: on." — Unknown
13. "I would rather own little and see the world than own the world and see little of it." — Alexander Sattler
14. "If traveling was free... bye." — Unknown
15. "Work, travel, save, repeat." — Unknown
16. "If you don't like where you are, move. You are not a tree." — Unknown
17. "Travel is the only thing you buy that makes you richer." — Unknown
18. "It's bad manners to keep a vacation waiting." — Unknown
19. "Travel becomes a strategy for accumulating photographs." — Susan Sontag
20. "And then I realized adventures are the best way to learn." — Unknown
21. "Good vibes happen on the tides." — Unknown
22. "The best education you will ever get is traveling. Nothing teaches you more than exploring the world and accumulating experiences." — Mark Patterson
23. "Catch flights, not feelings." — Unknown
24. "Travel, because money returns. Time doesn't." — Unknown
25. "Lost at sea? I'm not shore." — Unknown
26. "Watch more sunsets than Netflix." — Unknown
27. "Tropic it like it's hot." — Unknown
28. "This is my resting beach face." — Unknown
29. "Beach, please." — Unknown
30. "Girls just want to have sun." — Unknown
31. "What the shell?" — Unknown
32. "I'm all about the palm trees and 80 degrees." — Unknown
33. "Salty hair, sandy cheeks." — Unknown
34. "That crazy little sun of beach." — Unknown
35. "Chase the sun." — Unknown
36. "Say yes to adventure, especially in the summer." — Unknown
37. "Seek to sea more." — Unknown
This article was originally published on