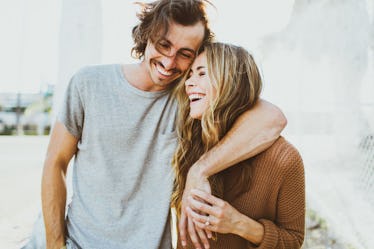 36 Sweet Captions For Holiday Engagement Pics, In Case Bae Pops The Question
The holidays are always an exciting time of year. The weather is a little colder (Who doesn't love the first snowfall of the season?) and it's prime time for traveling to see your loved ones. There's something magical in the air around Christmastime, and if you have a serious SO, the thrill of the holidays might prompt them to take the next step in your relationship. Just in case, you should be prepared with Instagram captions for holiday engagement pics, because you know your family and friends will be taking all the photos for you.
Holiday engagements are special, because it's honestly the best kind of present you could ever ask for. And even if you and your partner decide not to do a traditional ring, the excitement of the engagement is a present enough. Plus, the holidays are a time when you're surrounded by family and friends, and who better to celebrate this monumental moment with?
If you think your SO may very well pop the question this season, you better be prepared to post a bunch of photos. After all, not everyone you care about will be there to celebrate with you in person, and you should be ready to make the huge announcement with these fun captions.
1. "He asked. I said 'about damn time.'"
2. "I can't help falling in love with you." — Elvis Presley, "Can't Help Falling In Love"
3. "This Christmas is a lot more sparkly and shiny than usual."
4. "Traveling from Miss to Mrs."
5. "Pop the champagne, I'm changing my last name."
6. "Marry Christmas!"
7. "You are my today and all of my tomorrows." — Leo Christopher
8. "And so our adventure begins."
9. "Love begins in a moment, grows over time, and lasts an eternity."
10. "Does this ring make me look... engaged?"
11. "And I'd choose you; in a hundred lifetimes, in a hundred worlds, in any version of reality, I'd find you and I'd choose you." — Kiersten White, The Chaos of Stars
12. "I may have just unwrapped the best gift of all."
13. "All that you are is all that I'll ever need." — Ed Sheeran, "Tenerife Sea"
14. "We've decided on forever."
15. "True love stories never have endings." — Richard Bach
16. "I love [you] and that's the beginning and end of everything." — F. Scott Fitzgerald
17. "Two less fish in the sea."
18. "We loved with a love that was more than love." — Edgar Allan Poe
19. "No measure of time with you will be long enough. But we'll start with forever." — Stephenie Meyer, Breaking Dawn
20. "Once in a while, in the middle of ordinary life, love gives us a fairy tale." — Melissa Brown
21. "Merry me."
22. "I'll never finish falling in love with you." — Nicole Williams
23. "In all the world there is no heart for me like yours. In all the world there is no love for you like mine." — Maya Angelou
24. "Christmas is too sparkly. Said no one. Ever."
25. "He stole my heart, so I'm stealing his last name."
26. "Whatever our souls are made of, his and mine are the same." — Emily Brontë
27. "I never want to stop making memories with you."— Beverly Preston
28. "Tis the season to sparkle."
29. "Of all the fish in the sea, I'm so glad you swam to me."
30. "I choose you and I'll choose you over and over. Without pause, without a doubt, in a heartbeat. I will keep choosing you."
31. "Together is a beautiful place to be."
32. "My name sounds even cuter with your name added to it."
33. "Sh*t just got real! Like... diamond real."
34. "My mother told me to pick the very best one and you are it."
35. "Constantly, consistently, continually you." — Swapnil Pareek
36. "Every love story is beautiful, but ours is my favorite."