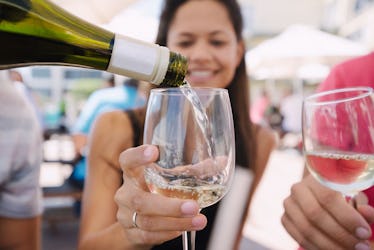 35 Instagram Captions For Your Wine Wednesday Pics, So Sip Back & Relax
Wednesdays were made for wine — period. Hump Day can be so exhausting, and you really just can't wait for it to be over and done with. Once the clock strikes 5 o'clock, you likely head straight home to your kitchen or to happy hour. Malbec and Merlot are greeting you like old friends, and you'd be a fool not to showcase their rich, luxe colors that make you wonder, where can I get this hue in a lipstick? Words may evade you as you take those first glorious sips, but I've got you covered with Instagram captions for Wine Wednesday pictures.
Taking pictures of your wine might be a tad basic, but how could you not showcase the deep love you have for your glass of rosé? If you're in the 21 and up crew, you probably already have your favorite brands and blends. It's to the point where you're that girl who proudly orders wine at the bar during happy hour and hopes the bartender's perfect pour is generous.
After a long day, especially in the middle of the week, nothing sounds more relaxing than getting your bunny slippers on, hearing that bottle pop, and getting lost in a world of red, white, and rosé. It's the little things in life, isn't it? So, before you throw in the towel on a Wednesday, wine down instead, get sipping on cloud nine, and pair those pics with any of these captions.
1. "Sipping back and drinking the weekend from a glass." — Unknown
2. "I just rescued some wine. It was trapped in a bottle." — Unknown
3. "You can't buy happiness, but you can buy wine, and that's sort of the same thing." — Unknown
4. "Wine is bottled poetry." — Robert Louis Stevenson
5. "Wine a bit. You'll feel better." — Unknown
6. "You had me at Merlot." — Unknown
7. "Home is where the wine is." — Unknown
8. "Is there a wine filter?" — Unknown
9. "Life's too short to drink bad wine." — Unknown
10. "Red lips and wine sips." — Unknown
11. "Wine is basically a hug in a glass." — Unknown
12. "Sip happens." — Unknown
13. "Unlike milk, it's OK to cry over spilled wine." — Unknown
14. "Always keep a bottle of wine in the fridge for special occasions. You know, like Wednesday." — Unknown
15. "This home runs on love, laughter, and good wine." — Unknown
16. "Wine is 'win' with an 'e' on the end." — Unknown
17. "I drink wine because I deserve it." — Unknown
18. "Not all who wander are lost... some just can't find their wine glass." — Unknown
19. "Wine not?" — Unknown
20. "Sometimes, wine is just necessary." — Unknown
21. "It's Wednesday. Wine me." — Unknown
22. "Save water. Drink wine." — Unknown
23. "Hakuna Moscato. It means drink wine." — Unknown
24. "It's wine o'clock somewhere." — Unknown
25. "Wine is just a conversation waiting to happen." — Jessica Altieri
26. "Either give me more wine or leave me alone." — Rumi
27. "Age appears best in four things: old wood to burn, old wine to drink, old friends to trust, and old authors to read." — Francis Bacon
28. "In wine, there's truth." ― Pliny the Elder
29. "His lips drink water, but his heart drinks wine." ― E.E. Cummings
30. "If we sip the wine, we find dreams coming upon us out of the imminent night." ― D.H. Lawrence
31. "Wine makes every meal an occasion, every table more elegant, every day more civilized." ― Andre Simon
32. "Given enough wine, I could rule the world." — Unknown
33. "When life gets complicated — I wine." — Unknown
34. "Drink freely the wine life offers you and don't worry how much you spill." — Marty Rubin
35. "Wine is like many of the fine experiences in life which take time and experience to extract their full pleasure and meaning." — Douglas Preston