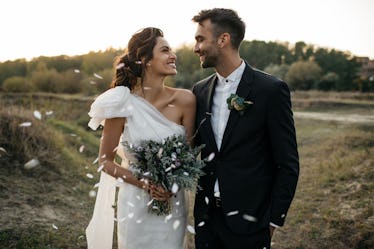 35 Instagram Captions For Destination Wedding Pics That Shellebrate The Newlyweds
Weddings are a beautiful thing. Everyone gets to witness two people from different families unite and start their lives as a new family of their own. Weddings can be particularly special when they're in a picturesque location with an intimate setup, which is why destination weddings have gotten so popular in recent years. If you're headed to one soon, you'll have the best time ever. Here are some Instagram captions for destination wedding pics that'll seriously make you melt.
Whether it's a breezy wedding on a beach in Santorini, a rustic ceremony at a vineyard in Tuscany, or an intimate wedding on a mountaintop in Stellenbosch, South Africa, destination weddings are always sure to give you some great memories (and some pretty spectacular pictures to make sure you never forget them). If you're lucky enough to get to go to one, you're sure to be awed by the beautiful surroundings, which will only become more breathtaking when the wedding party and bride walk down the aisle.
Have fun, and take lots of pics! (Also keep in mind that a destination wedding will set the bar extremely high.)
For the tropical wedding:
1. "Two less fish in the sea." — Unknown
2. "We were mer-maid for each other." — Unknown
3. "It's just you, me, and the sea." — Unknown
4. "Just a couple of beach bums." — Unknown
5. "We got married on the beach for a little sea-habilitation." — Unknown
6. "Shellebrating the fact that I found someone to put up with me." — Unknown
7. "Exceeding the superfishcial beach wedding pic quota." — Unknown
8. "Happiness comes in waves." — Unknown
9. "Don't worry, beach happy." — Unknown
10. "Beach, please. We got married today!" — Unknown
11. "I whale always love you." — Unknown
12. "I love you more than there are grains of sand on the beach, fish in the sea, waves in the ocean." — Unknown
13. "In high tide or in low tide, I'll be by your side." — Bob Marley and the Wailers, "High Tide Or Low Tide"
14. "We have a love so deep, the ocean is jealous." — Unknown
15. "Our memories of the ocean will linger on, long after our footprints in the sand are gone." — Unknown
16. "I love you like the sea loves the shore." — Unknown
17. "Good vibes, high tides." — Unknown
18. "You will find that endless ocean, and that's how my love will always be." — Elvis Presley, "Never Ending"
For the couple who eloped:
19. "When the lights go out, run away with me." — Carly Rae Jepsen, "Run Away With Me"
20. "Together is a wonderful place to be." — Unknown
21. "Come away with me, and I'll never stop loving you." — Norah Jones, "Come Away With Me"
22. "It's a beautiful night, we're looking for something dumb to do. Hey baby, I think I want to marry you." — Bruno Mars, "Marry You"
23. "Now take my hand, and we will run away." — The Cab, "Take My Hand"
24. "Run baby run, forever we'll be you and me." — We The Kings, "Check Yes Juliet"
25. "Throw it away. Forget yesterday. We'll make the great escape." — Boys Like Girls, "The Great Escape"
26. "Marry me [insert name here], you'll never have to be alone. I love you and that's all I really know." — Taylor Swift, "Love Story"
27. "Let's run away and don't ever look back." — Katy Perry, "Teenage Dream"
Just some fun captions about weddings:
28. "It's been an emotional day, even the cake is in tiers."— Unknown
29. "And in the end, the love you take is equal to the love you make." — The Beatles, "The End"
30. "All you need is love." — The Beatles, "All You Need Is Love"
31. "Fill up my cup, Mazel Tov!" — The Black Eyed Peas, "I Gotta Feeling"
32. "There is only one happiness in life, to love and be loved." — George Sand
33. "When you realize you want to spend the rest of your life with somebody, you want the rest of your life to start as soon as possible." — Harry, When Harry Met Sally
34. "When I look at you, I can feel it. I look at you and I'm home." — Dory, Finding Nemo
35. "We are all a little weird and life's a little weird. And when we find someone whose weirdness is compatible with ours, we join up with them and fall in mutual weirdness and call it love." — Dr. Seuss