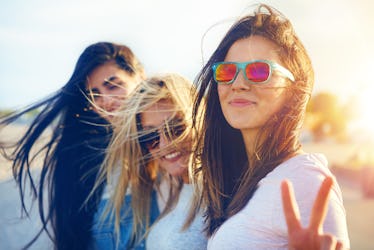 35 End Of Summer Puns When It's Time To Say, "Sea You Later"
You knew the end of the summer was coming, but never expected it to be here this soon. You've pretty much checked off everything on your summer bucket list, including beach getaways, poolside lounging, and lazy afternoons chilling on your hammock. Now it's time to say, "Sea you later," to the surf and sand with end-of-summer adventures. It doesn't have to be a sad time as you wave goodbye. Instead, smile through it all with some end of summer puns for all of your sunny Instagram photos.
A pun is a great way to say what you want, but with some wit attached to it. A sappy goodbye to the summer season would be great, but you want to keep it lighthearted and clever. You also don't have much time left as you're trying to get to everything you wanted to do this season. Don't waste a second of it trying to come up with a caption on your own, and instead, use any of these 35 end of summer puns. Post something that not only says, "Goodbye," but will have your friends laughing like all the good times you had this season.
1. "Cheerio to another summer." — Unknown
2. "Chex you later, summer." — Unknown
3. "Catch you on the next wave, summer." — Unknown
4. "See you spoon!" — Unknown
5. "This summer stole a pizza my heart." — Unknown
6. "It's time for summer to beet it." — Unknown
7. "Herd summer is almost over. Ewe will be missed." — Unknown
8. "Sea you later." — Unknown
9. "Owl miss you, summer." — Unknown
10. "Until we meet again, I'll pine for you." — Unknown
11. "I can't bear to be without you." — Unknown
12. "I donut want to say goodbye." — Unknown
13. "Waiting just around the summer's end." — Unknown
14. "Frank you very much for a great summer." — Unknown
15. "Relish these final summer days." — Unknown
16. "Can't wait to ketchup when summer is over." — Unknown
17. "No lion, I'll miss you, summer." — Unknown
18. "You'll always have a pizza my heart." — Unknown
19. "A pitcher-perfect end to summer." — Unknown
20. "Having a purrfect end of summer." — Unknown
21. "We'll meet again." — Unknown
22. "Summer, you were un-Pho-gettable." — Unknown
23. "I cannot beleaf summer flew by so fast." — Unknown
24. "Piece out, summer." — Unknown
25. "Turnip the beet on this end-of-summer party." — Unknown
26. "Summer's gato go." — Unknown
27. "I'll hippopotamiss you." — Unknown
28. "Pasta la vista baby." — Unknown
29. "We had an otterly amazing summer." — Unknown
30. "I will miss you berry much, summer." — Unknown
31. "Please summer, don't leaf me." — Unknown
32. "This isn't goodbye. It's see you ladder." — Unknown
33. "I'll miss you a waffle lot." — Unknown
34. "Waddle I do without you?" — Unknown
35. "Cheers to an un-brie-lievable summer." — Unknown