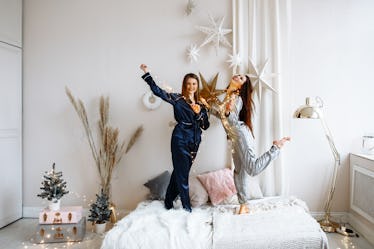 35 Clever Captions For Christmas Morning Pics In Your Festive PJs & Slippers
When I was a kid, I used to sleep in every day — but there was always that one day of the year when I just couldn't contain my excitement, and woke up early AF. I'm talking about Christmas morning. I was the first one to rush to my parents' bedroom screaming, "It's Christmas! Wake up!" I had one mission, and one mission only: to see what Santa got me. Even in my 20s, I still get that holiday cheer that gets me going on Christmas morning. If you're just as spirited as me, you'll need some clever captions for Christmas morning selfies when you're about to unwrap everything you see.
Every family has different Christmas day traditions. Mine is to open presents ASAP. Then, we eat breakfast and watch the Christmas parade on TV. Your family may wear matching PJs every year, and that deserves a squad pic on the 'Gram. Though, if you're anything like me, you're too distracted by the gifts and hanging out with your fam that you don't have the time to come up with your own caption. That's where I come in with my present to you: these 35 Christmas morning captions that are sure to bring you lots of joy.
1. "#Facts: I'm only a morning person on December 25."
2. "He was Christmas morning, crimson fireworks, and birthday wishes." — Raquel Franco
3. "Christmas presents come and go, but Christmas memories last a lifetime."
4. "It's too A.M. for me."
5. "Enjoying Christmas, one sip at a time."
6. "Flannel squad's all here."
7. "I'm usually allergic to morning, so it must be a Christmas miracle that I'm not today."
8. "It's a topknot kinda morning."
9. "I hope your morning is merry and bright."
10. "Hey, you up yet? I want to open presents."
11. "Wake up, we have presents to open."
12. "I wish I put coffee on my Christmas wish list."
13. "So, this is what the morning looks like?"
14. "No time for snooze buttons today, because Christmas awaits."
15. "Easy like Christmas morning."
16. "Oh Christmas tea, oh Christmas tea."
17. "I love Christmas morning a latte."
18. "Good morning, brewtiful."
19. "I only do morning on Christmas day."
20. "Flannel PJs, coffee, and Christmas lights."
21. "Did you know that the earlier you wake up, the more Christmas you get to have?"
22. "Christmas morning vibes."
23. "Pajama squad goals."
24. "Christmas isn't a season. It's a feeling." — Edina Ferber
25. "Keep calm and... just kidding, freak out, because it's Christmas morning!"
26. "Christmas PJs are the coziest PJs."
27. "Everything is better in your pajamas."
28. "It's a pajamas-all-day kind of day."
29. "Any day when you can stay in pajamas the whole time is a good day."
30. "I can't espresso how much Christmas means to me."
31. "Christmas morning is the most brewtiful time of the year."
32. "Christmas morning mocha me happy."
33. "Christmas morning festiviteas."
34. "It's penguining to look a lot like Christmas."
35. "Having a treemendous Christmas morning. Hbu?"