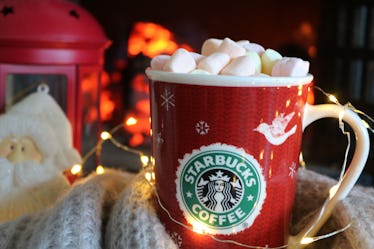 33 Captions For Starbucks Holiday Drinks, Because Your Juniper Latte Deserves An Elfie
The Pumpkin Spice Latte fad happens once a year, but that's nothing compared to the pure joy that fills my heart the minute Starbucks starts serving holiday drinks again. Give me a Chestnut Praline Latte, and I am walking in my very own winter wonderland. Every single new holiday drink Starbucks comes out with immediately goes on my to-do list; I make it my mission to try them all before the season is over. If you're in the same boat as me, you need to snap a sippin' elfie and pair it with one of these captions for Starbucks holiday drinks. (It's a must, right next to rockin' around the Christmas tree and shopping for gifts.)
Along with my all-time favorite, the Chestnut Praline Latte, you need to try the Juniper Latte this year. There are also a ton of chocolaty drinks, if that's more up your alley. Some of them are the Peppermint Mocha, Toasted White Chocolate Mocha, and Snickerdoodle Hot Cocoa. Honestly, I'd like to see each one underneath my Christmas tree (or at least a Starbucks gift card).
As you check off each drink on the menu, don't forget to post a pic to remember the delicious memories. Since you're too busy savoring every last drop, I've made it easy to post right away with these 33 holiday drink-inspired captions. So, sip on, and have a happy holiday season.
1. "Am I having deja brew, or is this my second Starbucks holiday drink of the day? It's the latter."
2. "The holidays mocha me so happy."
3. "It's a brewtiful day."
4. "I like you a latte."
5. "So eggcited for eggnog lattes."
6. "Starbucks holiday drinks, where have you bean all my life?"
7. "I've got the coffeels for holiday drinks."
8. "With the holidays here, I have a latte on my mind."
9. "I can't espresso how happy I am that Starbucks holiday drinks are back."
10. "Sip, sip, hooray."
11. "Coffee and best friends make the perfect blend."
12. "You bean so much to me."
13. "You can't egg-nore the holiday cheer around you."
14. "All you need is love and a Juniper Latte."
15. "I like big cups and I cannot lie."
16. "You can't buy happiness, but you can buy a Gingerbread Latte from Starbucks, which is basically the same thing."
17. "Just having a cup of cheer."
18. "Christmas in a cup."
19. "You mocha me smile, Starbucks."
20. "I love days when my only problem is choosing between a Gingerbread Latte or Chestnut Praline Latte from Starbucks."
21. "Nut'in but love for my latte."
22. "We were peppermint to be."
23. "I guess waiting all year for Starbucks holiday drinks is better latte than never."
24. "I don't give a frappe."
25. "Being a basic Grinch over here."
26. "I don't care what flavor I get. Just brew it."
27. "Hello, brewtiful. I've waited all year for you."
28. "A day without coffee is like... just kidding. I have no idea."
29. "My blood type is Starbucks holiday drinks."
30. "But first, coffee."
31. "Coffee reminds me of Christmas morning."
32. "You call it Starbucks, but I call it love."
33. "Starbucks represents something beyond a cup of coffee." — Howard Schultz