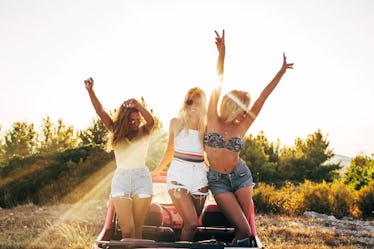 32 Puns About Leaving For School, Because This Year Will Be One For The Books
Packing and ordering textbooks are top priorities on your to-do list, because back to school season is right around the corner. I think we can all agree that summer flew by way too fast, and now, it's time to start preparing for college. It can be a bit overwhelming trying to get everything in order for the new semester, but you have to remember to take some to relax and enjoy the rest of summer that's left. The best way to have fun is by making some memories and posting them to the 'Gram with puns about leaving for college.
Sure, a good pun also has the potential to be a bit cheesy, but there's no denying that it'll bring a smile to your face. So, when you're stressing over your suitcase not being able to close properly, take a selfie with your over-packed mess and caption it with any of these 32 punny captions about leaving for school. You'll likely be too busy to come up with a witty caption on your own, so I've made it super simple for you. Just copy any of these puns for your caption, and you're ready to post. Now, get back to my favorite back-to-school activity — aka, shopping for dorm room decor. Then, say goodbye to your hometown besties, and prepare to have an epic school year.
1. "Owl see you soon." — Unknown
2. "Hey boo, I've got school spirit." — Unknown
3. "Here's a little encourage mint for an awesome school year." — Unknown
4. "This year owl study hard and do my best." — Unknown
5. "Bison, I'm leaving for college." — Unknown
6. "I'm going to be the ruler of this school." — Unknown
7. "Hoping this year is sodium funny." — Unknown
8. "Cheerio!" — Unknown
9. "Chex you later." — Unknown
10. "When you Argon, I'll miss you periodically." — Unknown
11. "I've snailed it, packing for college." — Unknown
12. "See you spoon. I'm heading off to college." — Unknown
13. "I'll cereal-sly miss you." — Unknown
14. "I'll miss you, no lion." — Unknown
15. "Leaving for college is kind of a big dill." — Unknown
16. "I've got a good feline about this school year." — Unknown
17. "Lettuce ketchup when I come back home." — Unknown
18. "I'll pine for you when I'm at school." — Unknown
19. "I can't bear to be away, but school awaits." — Unknown
20. "You'll always have a pizza my heart." — Unknown
21. "Thanks for always being my support bras." — Unknown
22. "Sorry, I'm booked until winter break." — Unknown
23. "I donut want to say goodbye." — Unknown
24. "My heart beets for school." — Unknown
25. "College and I were meant to bean." — Unknown
26. "I know it's cheesy, but college is going to be grate." — Unknown
27. "I gato go." — Unknown
28. "Sea you later." — Unknown
29. "Waddle I do without you?!" — Unknown
30. "Holy shiitake, I leave for college so soon." — Unknown
31. "Have an otterly good school year." — Unknown
32. "This year will be one for the books." — Unknown