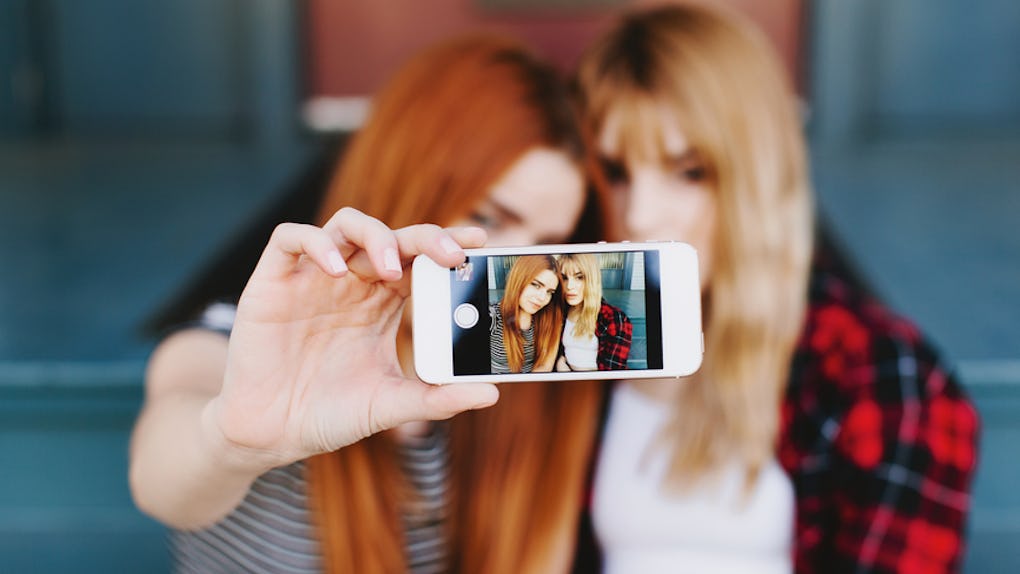 Ellie Baygulov/Stocksy
32 Instagram Captions For Selfies That Are Almost As Fabulous As You Are
I'm going to be completely real here when I say that there's no shame in snapping a quality selfie. We have to seize the perfect moments when our hair just so happens to be on point, our new T-shirt looks absolutely incredible, or our makeup game for girls' night out is seriously killing it. So, why not embody your feels by coming up with a solid list of inspirational Instagram captions for selfies? This way, you won't have to waste any time scrambling for the right words to pair with your Instagram-worthy picture. You'll already be prepared when you're in the moment and capture the greatest selfie.
We need to cherish every good hair day, because when the dry shampoo just did not come in clutch, it helps us forget that bad hair days ever existed. OK, I totally get that some of us may feel a tad embarrassed when someone walks in on you snapping a selfie, but most of the time, you won't even see these people again... so just go for it! And besides, it's true that if you take a picture it will last longer. So, take all of the selfies you want, and use one of these 32 Instagram captions to show your followers you're damn proud of your awesome selfie-taking skills. Confidence looks good on you.
1. "Be a little more you, and a lot less them." — Madalyn Beck
2. "Life is short. Make every hair flip count." — Unknown
3. "Humble, with just a hint of Kanye." — Unknown
4. "Smile a little more, regret a little less." — Unknown
5. "Make them stop and stare." — Unknown
6. "She's the kind of girl whose light doesn't have an off switch." — J. Iron Word
7. "These are the days we live for." — Unknown
8. "She's a tornado with pretty eyes and a heartbeat." — Unknown
9. "They told me I couldn't. That's why I did." — Unknown
10. "You ain't gotta like me... I like me." — Kanye West
11. "Feeling good. Living better." — Drake
12. "Being happy never goes out of style." — Lily Pulitzer
13. "Life isn't perfect, but your outfit can be." — Unknown
14. "You don't need a king to be a queen." — Unknown
15. "Cutie with a mission. Hottie with ambition." — Unknown
16. "Don't ever be afraid to shine. Remember, the sun doesn't give a f*ck if it blinds you." — Unknown
17. "Embrace the glorious mess that you are." — Elizabeth Gilbert
18. "There are so many beautiful reasons to be happy." — Unknown
19. "Sometimes you gotta be beauty and a beast." — Nicki Minaj
20. "Find light in the beautiful sea, I choose to be happy. You and I, you and I, we're like diamonds in the sky." — Rihanna, "Diamonds"
21. "Working on myself, by myself, for myself." — Unknown
22. "Be as picky with your men as you are with your selfies." — Unknown
23. "Life only comes around once, so do whatever makes you happy, and be around those who make you smile." — Unknown
24. "You're gonna regret not texting me back when I drop this selfie." — Unknown
25. "Darling I'm a nightmare dressed like a daydream." — Taylor Swift
26. "You are too smart to worry and too cute to care." — Unknown
27. "I'm worth it. Always was, and always will be." — Unknown
28. "Elegance is the only beauty that never fades." — Audrey Hepburn
29. "What's wrong with being confident?" — Demi Lovato
30. "Be you. The world will adjust." — Unknown
31. "I don't dress up for boys. I dress up to stare at my reflection as I walk by store windows." — Unknown
32. "Many have an image of me. Few get the picture." — Unknown