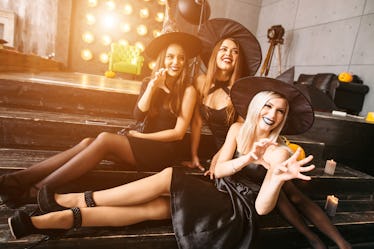 32 Best Instagram Captions For Your Sorority's Halloween Mixer
Halloween is such a fun time to be involved in Greek life. You and your sorority sisters are preparing for an epic Halloween mixer that most likely everyone on campus will be talking about. You have your super cute costumes set to slay, and can't wait to party the night away with your mains. You've got the tunes, the food, and the decorations ready to go, but one thing you and your sisters cannot forget about is your adorable group picture of you all in costume. You definitely need to make this night a memorable one with all of your sisters, so snap a couple of pictures and pair them with the perfect Instagram captions for Halloween mixers.
Every moment with your sisters is something to remember, but your Halloween mixer will be something you remember forever. Halloween is the one night of the year to dress up as whatever character or mystical creature you'd like to be. You probably won't have time to think of the ultimate caption when you're dancing or chatting with that super cute guy from one of the fraternities, so you need a caption ready to go. These 32 Halloween captions are perfect to have on hand, so you can post that cute picture of you and your sisters ASAP. Your followers will be in awe of how fun your Halloween mixer looks, and you'll be able to get back to having one thriller night without a pause.
1. "Ghosts and goblins, spooks galore. Scary witches at your door. Jack-o-lanterns smiling bright. Wishing you a haunting night." — Unknown
2. "It's just a bunch of Hocus Pocus." — Hocus Pocus
3. "More boos, please." — Unknown
4. #SquadGhouls
5. "Eat, drink, and be scary." — Unknown
6. "Creepin' it real." — Unknown
7. "Hey boo, let's get sheet faced." — Unknown
8. "Hocus Pocus, we need wine to focus." — Unknown
9. "Drink up, witches." — Unknown
10. "BOOtiful." — Unknown
11. "If you've got it, haunt it." — Rose Pressey
12. "I'm just here for the boos." — Unknown
13. "Witch better have my candy." — Unknown
14. "Happy Halloween, witches." — Unknown
15. "Witch please!" — Unknown
16. "Happy Hallo-wine." — Unknown
17. "We are the granddaughters of the witches you weren't able to burn." — Tish Thawer
18. "Would a bad witch wear shoes this fabulous?" — Unknown
19. "If you can't stir with the big girls, then stay away from the cauldron." — Unknown
20. "Under the full moon she had never felt crazy, she had only ever felt connected." — C. Churchill
21. "Amuck, Amuck Amuck." — Hocus Pocus
22. "All my best ghoulfriends are total witches." — Unknown
23. "If you think I'm a witch... you should meet my sister." — Unknown
24. "Pumpkin light and moon so bright; perfect night for making fright!" — Rusty Fischer
25. "Forget the candy. Let's scare up some wine for Halloween." — Unknown
26. "By the pricking of my thumbs, something wicked this way comes." — William Shakespeare
27. "I often think that the night is more alive and more richly colored than the day." — Vincent Van Gogh
28. "Blessed are the witches who walk a path others fear and scold. Blessed are the witches who seek truths lost and untold. Blessed are witches, the brave and the bold. Blessed are the witches the young and the old." — Leandra Witchwood
29. "You're my boo." — Kate Dopirak
30. "Boo crew." — Unknown
31. "Not every witch lives in salem." — Unknown
32. "My family is full of witches and bitches so be careful which one you cross." — Unknown