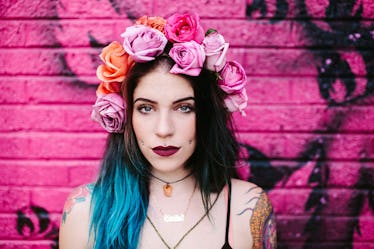 32 Insta Captions For Your Blooming Flower Crown Selfies
When I'm wearing a flower crown, I automatically feel like a princess. I don't know about you, but it makes me want to put on a long, flowy dress and go dancing in a field. I feel feminine and so carefree, which is why I can't help myself but take some much-needed selfies for the 'Gram. There's just something about the brightly-colored flowers that bring out your inner sparkle, and if that's not the prime time to pose for a selfie, I don't know when is. If you feel yourself saying, "same," to all of this, you'll need some Instagram captions for flower crown selfies to start the season off right.
I've noticed that selfies tend to do better for me on the 'Gram, and the pop of color from the blooms will have your friends double tapping as they scrolling through their feeds. Pretty soon, you'll see the likes come blooming in, so you'll want to make sure you have the perfect caption to go along with your vibrant pic.
When you'd rather be dancing in the sun, use any of these 32 flower crown captions so you can get right back to having a beautiful afternoon. It's no wonder that flower crown looks so great on you, because you're a queen.
1. "After women, flowers are the most divine creations." — Christian Dior
2. "Be a pineapple: Stand tall, wear a crown, and be sweet on the inside." — Katherine Gaskin
3. "Happiness blooms from within." — Unknown
4. "Where life plants you, bloom with grace." — Unknown
5. "She is like a wildflower; beautiful, fierce, and free." — Unknown
6. "Live life in full bloom." — Unknown
7. "Here comes the sunflowers." — Unknown
8. "Petal to the metal." — Unknown
9. "That floral feeling." — Unknown
10. "Read my tulips." — Unknown
11. "Plant one on me." — Unknown
12. "Like wildflowers; you must allow yourself to grow in all the places people thought you never would." — E.V
13. "If you look the right way, you can see that the whole world is a garden." — Frances Hodgson Burnett
14. "With grace in your heart and flowers in your hair." — Mumford & Sons, "After The Storm"
15. "Love is the flower you've got to let grow." — John Lennon
16. "Advice from a sunflower: Be bright, sunny and positive. Spread seeds of happiness. Rise, shine, and hold your head high." — Unknown
17. "Flowers don't tell, they show." — Stephanie Skeem
18. "Rose to the occasion." — Unknown
19. "Your soul is attracted to people the same way flowers are attracted to the sun, surround yourself only with those who want to see you grow." — Pavana
20. "Don't stop beleafing." — Unknown
21. "Like flowers, we can also choose to bloom." — The Goddess Rebellion
22. "I will not be another flower, picked for my beauty and left to die. I will be wild, difficult to find, and impossible to forget." — Erin Van Vuren
23. "Show your true colors." — Unknown
24. "I lilac you." — Unknown
25. "Her courage was her crown, and she wore it like a Queen." — Atticus
26. "Always wear your invisible crown." — Unknown
27. "May the petals teach me the art of letting go." — Xan Oku
28. "I must have flowers, always and always." — Claude Monet
29. "Flowers can't solve all problems, but they're a great start." — Unknown
30. "I'd rather wear flowers in my hair than diamonds around my neck." — Unknown
31. "When we were younger, we thought everyone was on our side. Then we grew a little, and romanticized the time I saw flowers in your hair." — The Lumineers, "Flowers In Your Hair"
32. "She's a wildflower who won't be cut down." — Unknown