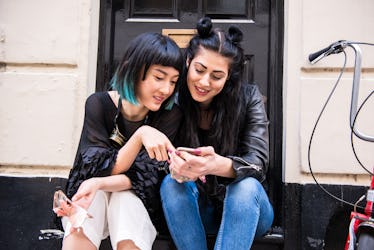 32 Comments To Leave On Your Friend's IG That Give Them The Hype They Deserve
When you have an amazing group of friends, you're set for life. You'll always have someone to hang out with, laugh at inside jokes with, and text when you need to vent or just share a funny meme. A true friend deserves to be showered with love on the regular, and knowing exactly what cute and funny comments to leave on your friend's Instagram pics will make all the difference when you want to show them how much you care.
Go ahead and add "professional hype person" to your resume, because that's what you do whenever your friend posts a new selfie on the 'gram. On social media, raking in the likes can feel spectacular, but there's something extra special about receiving a comment, too. When someone posts a comment, you know it took the extra effort to write and share. Your BFF deserves that, always. Plus, you really want them to know how amazing you think their selfies are.
While a few heart emojis or smiley faces are sweet, you want something that feels like it came straight from the heart. It's hard coming up with just the right words to say, so when you're speechless because you've got major heart eyes for your BFF, simply use any of these 32 comments for best friends. There are even different categories so you know just what to say for whatever pic or vid they post.
For their selfies:
1. "Someone call 911, because this post is hot."
2. "This post definitely deserves a 'Yasss queen!'"
3. "Excuse me, but who is this model I'm following?"
4. "Just looked up stunning in the dictionary and this selfie was next to it."
5. "Sorry I'm going to be late. I was too busy admiring this selfie and lost track of the time."
6. "Why doesn't this post have a million more likes?"
7. "I apologize for all the comments I'm about to leave, but I just can't stop loving this pic."
8. "I can't believe you snapped this yourself. Show me your ways."
For their plandid pics:
9. "Get out of here. This is so good!"
10. "You are a true influencer, because all I want to do is whatever you're doing."
11. "Oh, so you slay all day, every day?"
12. "Can we have this much fun next time we hang out? I miss you!"
13. "Just wondering, how many [heart eye emojis] is too many?"
14. "OMG, tell me where you got this outfit!"
15. "Gorgeous even when you're not trying at all."
16. "How is it that you're shining brighter than the sun here?"
For group pics together:
17. "I can't remember why we're laughing, but that's probably because you always make me laugh."
18. "If I had a time machine, I would go back to this day."
19. "I'm sorry, but this is actually #squadgoals and everyone else is just misinformed."
20. "This pic makes me even more excited for our next adventure together."
21. "Wait, why aren't we hanging out rn?"
22. "LOL, can I have this picture framed?"
23. "This is the reason why girls' nights are mandatory, so… when's our next one?"
24. "I think we're ready for a 'Clueless' reboot."
For their #OOTD and makeup pics:
25. "I want to live in your closet."
26. "OMG, where did you get that lipstick?"
27. "Are you sure there's no filter on this, because you're absolutely glowing in this photo."
28. "Hey friend, you dropped this: [crown emoji]."
29. "Please start a vlog so I can copy your lewks."
30. "Can we go shopping sometime soon? I need you to pick out my outfits."
31. "Watch out, I may take this outfit when you're not looking, because it's stunning."
32. "If Rihanna is ever looking for more Fenty Beauty models, I know where she can find one."
This article was originally published on