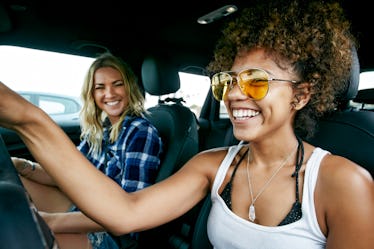 32 Captions For Fall Road Trips When You're "On The Road Again"
Fall is the perfect time of year to head out on a road trip. The leaves are changing, the air is crisp (so you can break out the coziest sweaters), and you can hit every single pumpkin patch you see along the way. Whether you have a solidified plan for your trip, you know that you'll be making a ton of memories — and documenting them all on the 'Gram — so you should be prepared with some perfect captions for fall road trips.
There's something magically freeing about a road trip. It's just you — maybe a pal or two — in your car, a bag of just the essentials packed, the perfect playlist already downloaded onto your phone, and the open road in front of you. You can go anywhere the road takes you, even if you didn't plan on heading that way. That's the fun thing about road trips — you'll accidentally discover places you didn't know you wanted to visit, and you'll probably want to go back see them all over again.
So, what are you waiting for? Hop in the car, grab a friend and a camera, and get ready for an epically unforgettable experience. You'll be so glad you did.
1. "The road is there, it will always be there. You just have to decide when to take it." — Chris Humphrey
2. "Wherever you go becomes a part of you somehow." — Anita Desai
3. "Because when you stop and look around, this life is pretty amazing." — Dr. Seuss
4. "Oh, the places you'll go." —Dr. Seuss
5. "Because the greatest part of a road trip isn't arriving at your destination. It's all the wild stuff that happens along the way." — Emma Chase
6. "You make me wanna roll my windows down and cruise." — Florida Georgia Line, "Cruise"
7. "People be (road) trippin'."
8. "RV there yet?"
9. "Life's an open road." — Bryan Adams, "Open Road"
10. "All I want is an open road and an open heart."
11. "Adventure awaits."
12. "I don't care how long it takes me, but I'm going somewhere beautiful."
13. "Look at life through the windshield, not the rear-view mirror." — Byrd Baggett
14. "Road trips aren't measured by mile markers, but by moments."
15. "We travel not to escape life, but for life not to escape us."
16. "So, remember when we were driving, driving in your car. Speed so fast felt like I was drunk. City lights lay out before us, and your arms felt nice wrapped around my shoulders, and I had a feeling that I belonged." — Tracy Chapman, "Fast Car"
17. "I feel the most free when I have nothing but an open stretch of road ahead of me."
18. "Living young, and wild, and free." — Bruno Mars, Wiz Khalifa, and Snoop Dogg, "Young, Wild & Free"
19. "If you're not lost, you're not much of an explorer." — John Perry Barlow
20. "Always take the scenic route."
21. "It doesn't matter where you're going. It's who you have beside you."
22. "I want to go on a road trip. Just you and me. The highway, the radio, the blue sky, the back roads, and windows down. We'll talk about everything and nothing. We'll sing our hearts out, and we'll make memories we'll never forget. Just you and me."
23. "Travel sparks our imagination, feeds our curiosity, and reminds us how much we all have in common." — Deborah Lloyd
24. "If you don't know where you're going, any road will take you there." — George Harrison, "Any Road"
25. "Somewhere down the road, our roads are gonna cross again, it doesn't really matter when." — Barry Manilow, "Somewhere Down The Road"
26. "Roads were made for journeys, not destinations." — Confucius
27. "Please understand, I have been waiting to leave ever since I figured out that there were roads willing to take me anywhere I wanted to go."
28. "The road is there. It will always be there. You just have to decide when to take it." — Chris Humphrey
29. "Adventure is out there." — Up
30. "We can't be lost; we don't know where we're going." — Lorelai Gilmore, Gilmore Girls
31. "We're almost there, but nowhere near it. All that matters is that we're going." — Lorelai Gilmore, Gilmore Girls
32. "On the road again, goin' places that I've never been, seein' things that I may never see again, and I can't wait to get on the road again." — Johnny Cash & Willie Nelson, "On The Road Again"
This article was originally published on