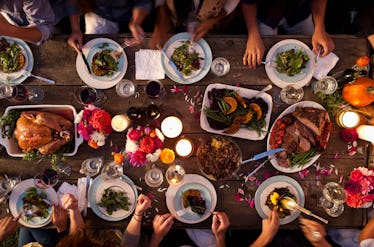 31 Clever Captions For Your Thanksgiving Travel Pics, Because It's Turkey Time
Thanksgiving is right around the corner, and you may be ready for a long holiday weekend. It's a wonderful time to celebrate all of your blessings and give thanks. You may get to spend quality time with family members or friends you haven't seen in way too long. Most importantly, you get to feast on a delicious Thanksgiving dinner with the people you love most. This holiday is all about good vibes and even better food. Many people are traveling far and wide to be with their loved ones, so here are some Instagram captions for Thanksgiving travel pictures with the fam.
Many of us are guilty of taking life's simplest pleasures for granted at times. It can be easy to get bogged down by life's daily demands, which may make it difficult to focus on the things that truly mean the most. Thanksgiving day is a great reminder of what is important in life. The traditional food is just the icing on the top! Turkey, stuffing, pumpkin pie, cranberry sauce, and many other dishes give us all the Thanksgiving feels. Together with family, football, fun, and travel, it's easy to see why everyone looks forward to this holiday all year long.
1. "Thanks for the memories." — Fall Out Boy, "Thanks For The Memories"
2. "It's turkey time in [insert location]." — Unknown
3. "Thankful to be in the best place with the best people ." — Unknown
4. "Thankful, blessed, and travel-obsessed." — Unknown
5. "There is always something to be thankful for... like travel." — Unknown
6. "This place is the tur-key to my soul." — Unknown
7. "Thankful for all these places I've been and faces I've seen." — Unknown
8. "Grateful for my passport." — Unknown
9. "Will travel for Turkey and mashed potatoes." — Unknown
10. "Playing hooky with my wanderlust today." — Unknown
11. "Feast your eyes on this place." — Unknown
12. "Eat pie, travel, and be thankful." — Unknown
13. "One bite closer to Christmas and my next vacation." — Unknown
14. "To do list: eat, drink, travel. " — Unknown
15. "Let's stuff our faces and go places." — Unknown
16. "Grateful for every adventure with you. " — Unknown
17. "Keep calm and gobble on." — Unknown
18. "Blessed to be with the best." — Unknown
19. "Sweater weather adventures." — Unknown
20. "Time to sip pumpkin spice and catch flights." — Unknown
21. "Holiday vacation mode: on." —Unknown
22. "Home is where the apple pie is." — Unknown
23. "I wish Thanksgiving and vacation could last forever. Who's with me?" — Unknown
24. "Thanksgiving shenanigans with my faves." — Unknown
25. "BRB, off to eat some turkey." — Unknown
26. "Sorry for what I said when I wasn't eating Mom's pumpkin pie." —Unknown
27. "Home is where the turkey is." — Unknown
28. "Happiness cannot be traveled to, owned, earned, worn or consumed. Happiness is the spiritual experience of living every minute with love, grace, and gratitude." – Denis Waitley
29. "Thankful for catching flights to the people I love most." — Unknown
30. "Thanksgiving is a time of gratitude and good food." — Unknown
31. "En route to Thanksgiving dinner." — Unknown