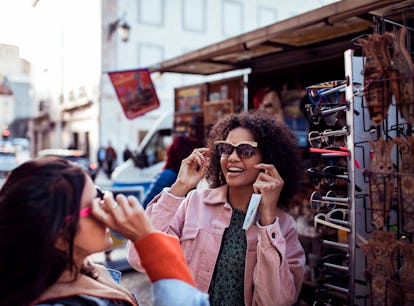 30 IG Captions For Totally Spec-Tacular Snaps In Your Sunglasses
Perfect for those beach pics!
When the sun's out, it's time to pull out your fave shades. I don't know what it is exactly, but there's just something about a pair of sunglasses that instantly makes someone look completely and utterly cool. When you're feeling in your element, it's time to snap a spec-tacular selfie and post on social with these Instagram captions for sunglasses pics.
When it comes to the must-dos of sunshine-y weather, a selfie in your sunglasses should be at the very top of your list. Whether you're lounging on an oversized inflatable shaped like an ice cream cone in the pool, or chillin' in the backyard with a juicy read and lemonade, the camera is coming out at some point. You might as well be prepared for when the photo opportunity presents itself.
Since sunglasses give off an instantly cool, carefree vibe, you don't want to snap out of it just to stress about coming up with the best caption. Of course, you could always go with something generic like a few sunglasses emojis, but an IG-worthy selfie deserves an extra special caption. Keep that "good vibes only" attitude going strong with these 30 sunglasses captions that are readily available for you. All you need to do is choose which one goes best with your pair of shades, and click the share button.
1. "Focus on what matters, like a good pair of shades."
2. "No one likes a shady beach."
3. "50 shades of sunshine."
4. "I got 99 problems and the right pair of glasses solved, like, 90 of them."
5. "Everyone should believe in something. With these sunglasses, I believe I should be at the beach."
6. "Repeat after me: I deserve a new pair of sunglasses."
7. "I know why they're called shades, because you can't see me roll my eyes when I wear them."
8. "The shade of it all." — Latrice Royale, RuPaul's Drag Race
9. "Sometimes all you need is a new perspective."
10. "The shade is real."
11. "Glowing with the flow."
12. "Salty, but sweet."
13. "My future's looking real bright."
14. "Happy SUNday."
15. "Daydreaming about you."
16. "I've made quite a spectacle of myself. Oops."
17. "Dreaming of sunny days."
18. "There's no better feeling than finding your fave pair of sunglasses after digging around in your purse."
19. "They say, 'Love is blinding,' so that's why I'm wearing sunglasses."
20. "One happy camper."
21. "Stay wavy, baby."
22. "We get through Mondays with coffee and sunglasses."
23. "Stay classy."
24. "Sundays are made for sunnies, sunshine, and self-care."
25. "I've got bright ideas."
26. "Sunglasses are great for when you can't be bothered."
27. "I'm like a sunflower. I point myself in the direction of sunshine and grow from there."
28. "It's a vibe, babe."
29. "I find my happiness where the sun shines."
30. "You know it's going to be a good day when the sun's so bright that I have to wear shades."
This article was originally published on