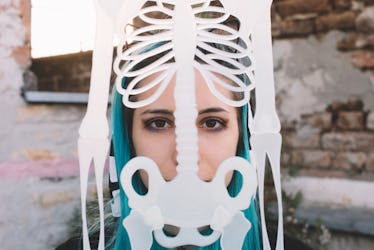 30 Halloween Captions For All Of The Wicked Fun That Comes Your Way This Season
Calling the spirits from beyond and my fellow basic witches out there: It's officially Halloween season. I genuinely apologize to all of the other holidays, but this is my favorite time of year. Even when it's not Halloween season, I'm just counting down the days until it returns. Luckily, here we are, and I'm ready to run amuck, amuck, amuck. I can't wait for the haunted houses, pumpkin spice doughnuts, jack-o-lanterns, and candy corn that's about to come my way. If you're just as ready to haunt it this season, you'll need some Halloween 2018 captions for all of your wicked Instagram posts.
I'm talking about every pumpkin carving boomerang, #squadghouls pic at your favorite apple orchard, and costume selfies that you snap on All Hallows' Eve. They all need just the right caption — but the real struggle is when you're at a loss for words, and it delays you from having more Halloween fun. You've waited all year for this time, and you're not stopping for anything. So, when you're out with your witches and snapping some Insta-worthy pics, use any of these 30 Halloween captions that'll for sure put a spell on all of your followers. Then, watch as the likes start rolling in, which is just as sweet as Halloween candy.
1. "I'm a haunt mess." — Unknown
2. "This is Halloween. Everybody make a scene." — The Nightmare Before Christmas
3. "I'm just creepin' it real this year." — Unknown
4. "Halloween is not a day, it's a lifestyle." — Unknown
5. "Bow down witches, it's Halloween." — Unknown
6. "Trick or treat yourself." — Unknown
7. "Happy Halloween, witches!" — Unknown
8. "If you've got it, haunt it." — Unknown
9. "You say witch like it's a bad thing." — Unknown
10. "It's October. Time to put on your resting witch face." — Unknown
11. "If you were a ghost, you'd still be my boo." — Unknown
12. "This witch can be bribed with chocolate." — Unknown
13. "It's just a bunch of Hocus Pocus." — Hocus Pocus
14. "Happy Meowlloween." — Unknown
15. "Just being a basic witch this Halloween season." — Unknown
16. "Don't mind me. I'm just here for the boos." — Unknown
17. "I put a spell on you." — Screamin' Jay Hawkins, "I Put A Spell On You"
18. "Keep calm and haunt on." — Unknown
19. "Ghouls just wanna have fun." — Unknown
20. "Are you afraid of the dark?" — Are You Afraid of the Dark?
21. "I ain't afraid of no ghost." — Ray Parker Jr., "Ghostbusters"
22. "The ghostest with the mostest." — Unknown
23. "I am the Hallow-Queen of Halloween." — Unknown
24. "Just hanging with the ghoulfriends this Halloween." — Unknown
25. "Let's get black flame candle lit." — Unknown
26. "The only corn I eat is candy." — Unknown
27. "I fall so hard for Halloween." — Unknown
28. "There's nothing fun about fun-sized candy bars." — Unknown
29. "Hey boo, ready to get sheet faced?" — Unknown
30. "Something wicked this way comes." — William Shakespeare