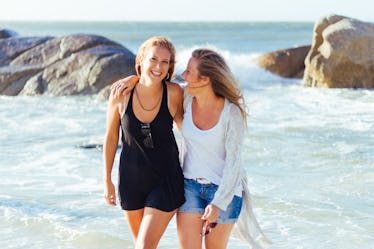 30 Clever Ocean Captions For Insta, When You're Only Reachable On Your Shellphone
There isn't a better time to relax on your millennial pink beach towel than right now. Between collecting seashells, chilling on an ice cream floaty, and swimming in the waves, you're in pure bliss every second you're soaking up the sun at the shore. And while the perfect season to be at the beach won't last forever, your Instagram posts splashing around or surfing sure can. You'll want to pair those amazing photos with clever ocean captions for Instagram to keep the witty, good vibes flowing long after this beloved season.
There are likely more than a handful of memories you can link back to the beach and the ocean. Maybe a wave unexpectedly (and hilariously) interrupted your sister's selfie, or maybe you met some of your best friends at a beach bonfire back in high school. Sure, you can thank the ocean for cooling you off when the temps are beyond sizzling, but you also have to give it kudos for giving you some of the best memories.
You don't need me to remind you how simple, yet satisfying it is to take a dip in the ocean after laying out in the sun. You also don't need any help chasing the water as it pulls back from the shoreline. For whatever goofy, nostalgic, or relaxing activity you're doing at the beach, any of these 30 captions will add an extra splash to your post.
1. "I'd let the ocean photobomb my pics any day." — Unknown
2. "Beach hair is my signature look." — Unknown
3. "My favorite fragrance is ocean." — Unknown
4. "Keep your friends close, and your sea anemones closer." — Unknown
5. "Whatever you're saying isn't as important as the sounds of the ocean." — Unknown
6. "High tide or in low tide, I'll be by your side." — Bob Marley, "High Tide Or Low Tide"
7. "I'm just a drop in the ocean." — Unknown
8. "Can ocean gazing be my profession already?" — Unknown
9. "I'd live here forever, but those water wrinkles are no joke." — Unknown
10. "High or low — if it's a tide, I go." — Unknown
11. "The the ocean called, so I had to answer." — Unknown
12. "There's an art to sitting by the ocean, and I plan to master it." — Unknown
13. "Unless the ocean is involved, I don't want to hear about it." — Unknown
14. "The ocean made me salty." — Unknown
15. "Dear ocean, do you have room for one more?" — Unknown
16. "I don't know where I'd be without the ocean... probably another body of water." — Unknown
17. "For as salty as the ocean is, every memory here is pretty sweet." — Unknown
18. "I shore am going to miss the hell out of this place." — Unknown
19. "All summer I tried to be healthy and took plenty of vitamin sea." — Unknown
20. "Do I really have to leave this place?" — Unknown
21. "The ocean is so beautiful, I want to cry, but there's already enough salt in that thing." — Unknown
22. "Dear ocean, I love you to the beach and back." — Unknown
23. "Quitting everything to become a mermaid." — Unknown
24. "If you need me, call me on my shell." — Unknown
25. "The best thing I could have ever learned was how to swim." — Unknown
26. "In my world, all signs point to the ocean." — Unknown
27. "If I click my flip-flops together three times, will I end up near the ocean?" — Unknown
28. "'I wish all of this was snow,' said no one ever." — Unknown
29. "I was getting tired of waking up and not being near the beach." — Unknown
30. "I'm at my happy place. Be back never." — Unknown
This article was originally published on July 12, 2018. It was updated on Feb. 25, 2020.