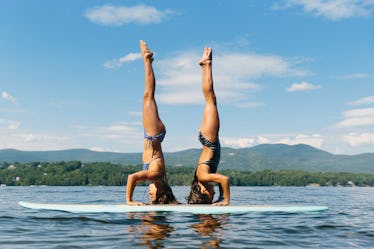 30 Captions For Camping Pics, Because Life Is S'more Fun When You're By The Lake
I remember every summer as a kid looking forward to camp. It was a week filled with making new friends, sleeping under the stars, chilling by the lake, and roasting many marshmallows for s'mores. Now that we've grown up, we unfortunately don't have annual sleepaway camp to look forward to, but that doesn't mean you can't still explore the great outdoors. Get your crew together for an epic camping trip this summer, and when you're packing, don't forget some captions for camping, too.
When you're camping, you need to be prepared for everything. That's why you'll definitely need these 30 camping-inspired captions for when you want to show off your adventures on the 'Gram. Sure, the Wi-Fi may be weak where you're going, but that doesn't mean you can't save your posts as drafts until you're able to share them with your friends.
Just think about how much fun you'll be having when you're hiking and biking during the day, relaxing in the lake on a floaty, and then, cozying up around the bonfire and sharing stories with your besties. It's your duty to share with the world what beauty is out there, so everyone who's not on your camping trip can live vicariously through you.
1. "Look at the stars. Look how they shine for you." — Coldplay, "Yellow"
2. "Of all the paths you take in life, make sure a few of them are dirt." — John Muir
3. "Just look up. We are both under the same starry sky." — Unknown
4. "Adventure is out there!" — Up
5. "Find your wild." — Unknown
6. "Let's be adventurers." — Unknown
7. "Blessed are the curious for they shall have adventures." — Lovelle Drachman
8. "Camp more. Worry less." — Unknown
9. "Let's wander where the Wi-Fi is weak." — Unknown
10. "Into the woods, it's time to go." — Into The Woods
11. "Happy camper." — Unknown
12. "Like campfires and marshmallows, we're better together." — Unknown
13. "There is no Wi-Fi in the forest, but I promise you will find a better connection." — Unknown
14. "The mountains are calling, and I must go." — John Muir
15. "Take nothing but pictures, leave nothing but footprints, kill nothing but time." — Aliyyah Eniath
16. "Welcome to our place in the woods." — Unknown
17. "Cold air, dark night, warm fire, bright stars." — Unknown
18. "Sleep under the stars." — Unknown
19. "Camping is the answer. Who cares what the question is." — Unknown
20. "Keep close to nature's heart, and break clear away, once in awhile, and climb a mountain or spend a week in the woods. Wash your spirit clean." — John Muir
21. "I felt my lungs inflate with the onrush of scenery. Air, mountains, tree, people. I thought, 'This is what it is to be happy.'" — Sylvia Plath
22. "In every walk with nature one receives far more than he seeks." — John Muir
23. "I am most alive among tall trees." — Unknown
24. "I would rather own little and see the world, than own the world and see little of it." — Alexander Sattler
25. "Not all who wander are lost." — J.R.R. Tolkien
26. "The clearest way into the universe is through a forest wilderness." — John Muir
27. "S'more than a feeling." — Unknown
28. "Between every two pines is a doorway to a new world." — John Muir
29. "Life is s'more fun with friends." — Unknown
30. "Take vacations. Go as many places as you can. You can always make money. You can't always make memories." — Unknown