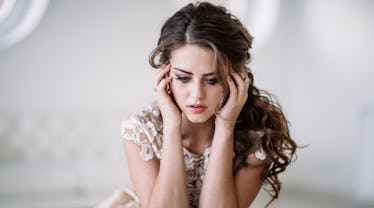 3 Zodiac Signs Most Likely To Be Stressed-Out Brides, So Just Breathe
Weddings are stressful. Even when meticulously planned and fully paid for, the day of the wedding can be really intense for everyone involved — but especially for the bride. That's because, chances are, they've spent a lot of time and energy on making the day perfect, and they know that all eyes will be on them. Stress is understandable, and honestly, so normal! But if someone falls into the category of zodiac signs most likely to be stressed-out brides, well, then you can bet they're really going to need the support of their friends and loved ones on the big day.
The reason these signs tend to feel the heat so intensely comes from the fact that occasions like this mean a lot to them, so they just want to everything to go as planned and create beautiful memories for themselves and the people they're sharing this special moment with. Sometimes, that need for perfection can result in fiery tempers (ahem, Aries) or some serious micromanaging of the wedding party (Virgo, yes, I'm talking to you). Just try to remember, if you're a member of their wedding party, to be understanding. Or if you're the bride, give yourself a break, because if you happen to be one of the following signs, some of this stress was written in the stars.