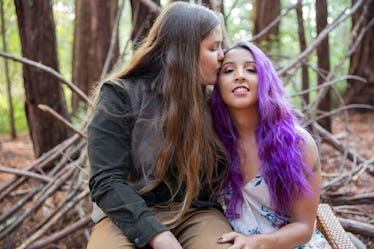 3 Ways To Celebrate Pride Month If You're Out & Proud But Your Partner Isn't
There are an infinite number of ways to embrace your queer relationship — being out and proud is just one of them. If you're trying to find how to celebrate Pride if your partner's not out, start by thinking within the structure of your relationship as it already exists. Are you the kind of couple who likes to go out and about and be in public? Or are you more of the homebody types? Are large events fun for you? Or do they give one or both of you social anxiety? Do you like hanging out with groups of people, or do you prefer when it's just the two of you?
There's no single way to go about being in any kind of relationship, and queer relationship dynamics are often unconventional from the start. You don't have to change anything about what you are already doing with your partner to make space for Pride celebrations. You can find your own way to acknowledge the history and significance of the month while honoring your and your partner's emotions and separate paths.
And while being out and proud is an intentional choice, it's a gift to be able to honor someone's journey towards making that decision for themselves. Maybe these private Pride celebrations will bolster your partner's self-confidence and embolden them to be more open about who they love and how. Even if they don't, you can still have fun and grow closer in the meantime: