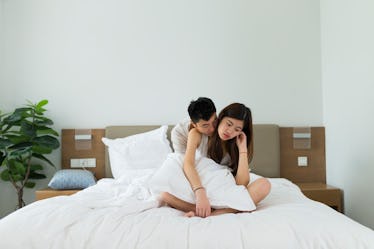 A Sex Therapist Reveals 3 Signs You're Not Sexually Compatible With Your Partner, & Yikes
Have you ever been with someone you really liked, and who seemed to be a perfect fit for you, except in one very important area? (The bedroom. I'm talking about the bedroom.) This person's so amazing and makes you happy in every other way, but when it comes to the horizontal happy fun times, it's just a total bust. Maybe they don't know how to turn you on, maybe you want different things, or maybe you want it at different times or in different quantities. These may all be signs you're not sexually compatible with your partner, which sounds dire — but don't lose hope just yet.
According to Dr. Jessica O'Reilly, sexologist and relationship expert, PhD, and host of the @SexWithDrJess podcast, "You have to cultivate sexual compatibility — it's not something you find," which means, "if you have different interests and expectations when it comes to frequency or preferred sexual activities, you can still make it work." So, if you and your partner aren't automatically on the same page sexually, she says not to give up, but instead to work on your communication and let them know what you need, because "once you understand one another's expectations, you can find a way to meet one another's needs."
Knowing that compatibility is something you can work on if it doesn't just immediately happen does offer couples struggling with this problem a lot of hope, but there are still some situations where two people are just not going to be able to get on the same page. In that case, here are some signs that may indicate that you and your SO just are not sexually compatible, according to Dr. Jess.