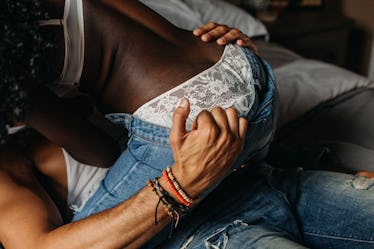 3 Sex Moves That Make It Easier To Have, Uh, A Really Great Time
If you're not orgasming during sex, it could be because of the positions you're using with your partner. There are certain techniques that can make it more likely for a woman to finish during sex, as well as specific sex positions for easier orgasms. "We all vary in how much stimulation we require to reach orgasm and how often we can cross the finish line," says Courtney Cleman, sex and relationship coach and co-founder of the V. Club, a space for women to learn about love, relationships, and wellness free of judgment. "Some people are simply more orgasmic than others. That said, everyone should be able to reach orgasm regularly, it's just that for some people it could be every day and for others a few times per week."
If you're having trouble orgasming during sex, the first step is to explore your body, both on your own and with a partner. Cleman says that a lack of understanding of their bodies is one of the most common reasons why women don't orgasm during sex. It's also ideal to have healthy self-esteem and a positive attitude toward sex in order to prevent psychological blocks and reach orgasm as often as your body will allow, according to Cleman.
"If you have been 'practicing' and trying new things but are still unable to reach orgasm, then it would be advisable to speak to a doctor or sex therapist," she adds. "Just make sure not to compare your orgasmic ability to your partner's or anyone else — it will only add pressure and create more anxiety for you during sex, making reaching orgasm even more difficult." If you're still in the practice stage, though, here are three orgasm-inducing sex moves you can try with your partner, recommended by a sexpert.