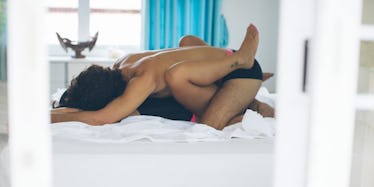 4 Sex Positions You're Doing That Might Be The Reason You Never Orgasm
I'm going to let you in on a little secret that I'm pretty sure all ladies know to be true, so it's not exactly a secret anymore: I'm basically the only person who can give me the best orgasms.
THERE. I SAID IT.
Truth be told, the female orgasm is a pretty difficult art to master if you don't have your very own female genitals to practice on for an actual insane amount of hours (when you could've been, like, getting your life together, but whatever).
That being said, when we're actually doing ~the sex~ with someone else, it can be difficult for us ladies to orgasm, even after being as verbal as possible with our partner about what feels good, what we need and what our favorite position is.
But could our favorite sex position actually be setting us up for failure every damn time? THE HORROR.
Well, Polly Rodriguez, CEO of Unbound, a subscription service aiming to make sex better for women, tells Elite Daily that the answer isn't all that simple.
She says,
Answering this question involves first acknowledging that all women are different in terms of what stimulates them. Unlike the consistent grid of nerve endings in men, for women, the pelvic neural network is intricately woven across the clitoris, vagina, perineum and mouth of the cervix. Each woman's nerve branches reside in varying distances from the surface, which is why each woman has a unique path to arousal (think: Monica 'SEVEN SEVEN SEVEN' from 'Friends').
But if the large majority of women experience difficulty orgasming, what is a possible overarching explanation for this?
Your clit. Your clit is literally the answer (to everything, don't @ me).
"Women need clitoral stimulation in order to reach orgasm, which can be difficult to achieve from normal, penetrative sex," says Rodriguez.
So, keeping in mind that all women's bodies can react differently to certain positions and certain kinds of stimulation, here are the sex positions that generally won't give you stellar clit stimulation alone and, in turn, will make the big "O" a resounding NO. (I'll see myself out, bye.)
1. Standing up sex
According to Rodriguez, "the odds that the height ratio works out here are slim-to-none, subsequently leaving your partner's hands preoccupied and unable to give the clitoris the attention it needs."
Plus, have you guys ever even stood for extended periods of time? I can barely stand in the shower without having to take a damn break. Trying to focus on orgasming while my legs are literally screaming doesn't seem like the most relaxing time, and Dr. Kat Van Kirk, a licensed marriage and family therapist and certified sex therapist, agrees.
"[Women] may not be able relax enough to orgasm. Stimulation may not line up enough for her based on height. Plus, you could both feel unstable," she says.
2. Missionary
Orgasming with plain, ol' missionary might as well be mission-impossible-ary. (I'll be here all night, you guys.)
Van Kirk explains that "most women don't receive enough clitoral or G-Spot stimulation from missionary alone."
"Again, it's hard for the clitoris to get contact unless your partner really slows things down and tries lifting your legs to a 45 degree angle," says Rodriguez.
So if you thought reverting back to tried-and-true methods could never fail, you thought so, so wrong my friend. TRUST NO ONE... position.
3. Doggy style
While you might think doggy style is the perfect way to spice up a vanilla, missionary fuck session, Rodriguez warns this position may actually put the both of you in the orgasm doghouse. (HAHA, I'm sorry.)
"If s/he's not reaching around and stimulating the clit, then it can actually be painful on the cervix," she says.
Van Kirk also mentions that there's a lack of ~connection~ with doggy style: "[There's] no direct clitoral stimulation. [Your partner] may not be focusing on G-Spot stimulation. [You] may feel disconnected from your partner due to facing away and not kissing."
4. The weird one you saw in a porno once
Of course, being willing to try new things is never a bad thing, and it can even give you a ~feeling~ you never knew you needed. BUT don't expect to get it perfect with the biggest orgasm of your life the first time.
Rodriguez explains,
[Things] like the double wheelbarrow! Or Bulgarian Pretzel! Or reverse cowgirl from Texas, not Alabama! It's great to try new things, but sometimes, the complexity of the position outweighs the simplicity of just simple communication with your partner about what feels good.
For example, with positions like reverse cowgirl, "unless she is self-stimulating, there is less clitoral contact. [She] may not like facing away from partner," says Van Kirk.
So you guys, it looks like regular P in V won't always do the job (that we can do much better ourselves, just saying).
But Rodriguez really hits the nail on the head, saying, "The real answer is that, regardless of position, you should be able to communicate with your partner where you need some attention."
Ladies, be vocal, demand exactly what you want (i.e. that clit stim) and do whatever else you have to do to make sure you try to close this orgasm gap.
And if that means swearing off sex with anyone else forever and ever and just gettin' down with yourself because you are the best thing that ever happened to you (LOL), then quite literally "do you."